The DAX Futures is trading at 9,870.50 up with +3.75% or +357.20 point. The FTSE 100 Futures is trading at 5,538.80 up with +2.89% percent or +155.80 point. The CAC 40 Futures is trading at 4,286.20 up with +3.47% percent or +143.70 point. The EURO Stoxx 50 Futures trading at 2,719.00 up with +3.54% percent or +93.00 point.
TODAY'S FACTORS AND EVENTS
The DAX ended the week with marginal losses of 1% with equity markets trading in somewhat calmer fashion compared to recent weeks. Upside in the DAX had been capped at 9940, which marks the 38.2% Fibonacci retracement, alongside the rising trendline from the 2008. As such, we look to this level as a pivotal point for the DAX, with a closing break potentially offering room for a test of 10,200. That said, in light of the current macro backdrop we continue to expect that risks will remain tilted on the downside with a retest of support at 8740 eyed.
YESTERDAY ACTIVITY
For the day Germany's DAX closed at 9,525.77 with a loss of -0.47% percent or –45.05  point.the FTSE 100 closed at 5,415.50 with a loss of  –1.18%% percent or –64.72 point. France's CAC  40 closed at 4,154.58 with a loss of –1.57% percent or –66.37 point.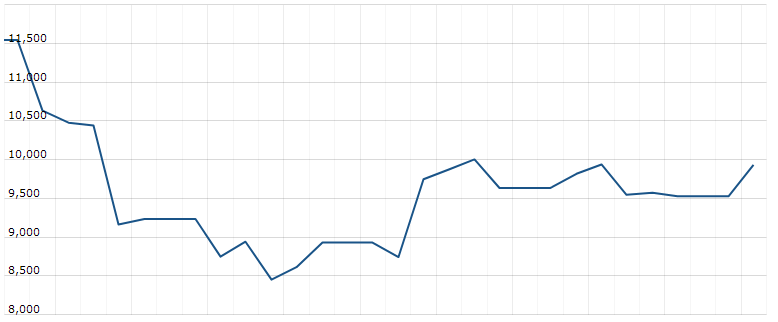 WORLD MARKETS
For the day the Dow is trading at 21,052.53 with a loss of –1.69% percent or –360.91 point. The S&P 500 is trading at 2,488.65 with a loss of –1.51% percent or ?38.25 point. The Nasdaq Composite is trading at 7,373.08 with a loss of –1.53% percent or –114.23  point.
In other parts of world, Japan's Nikkei 225 is trading at 18,576.30 up with +4.24% percent or +756.11 point. Hong Kong's Hang Seng is trading at 23,740.39 with +2.17% percent or +504.28  point. China's Shanghai  Composite is trading at 2,763.99 with a loss of –0.60% percent or –16.65  point. India's BSE Sensex is trading at 27,590.95 with a loss of  –2.39% percent or –674.36 point at 12:15 PM.