The DAX Futures is trading at 10,345.20 up with +1.48% or +151.20 point.The FTSE 100 Futures is trading at 5,672.00 up with +1.77% percent or +98.50 point. The CAC 40 Futures is trading   at 4,447.50 up with +2.38% percent or +103.50 point.  The EURO Stoxx 50 Futures trading at 2,832.00 up with +2.28% percent or +63.00 point.
TODAY'S FACTORS AND EVENTS
After closely following technical developments on the DAX 30 chart for months, the abrupt and severe decline that occurred over the last thirty days was shocking to watch. Prior to the crash, significant price developments occurred in weeks or months – not minutes. However, given the unprecedented fundamental themes at play it is rather unsurprising – in hindsight – that volatility spiked, and price fell lower, although the pace of declines remains truly remarkable.
YESTERDAY ACTIVITY
For the day Germany's DAX closed at 10,075.17 up with 5.77% percent or +549.40  point.the FTSE 100 closed at 5,582.39 up with +3.08% percent or +166.89 point. France's CAC  40 closed at 4,346.14 up with +4.61% percent or +191.56 point.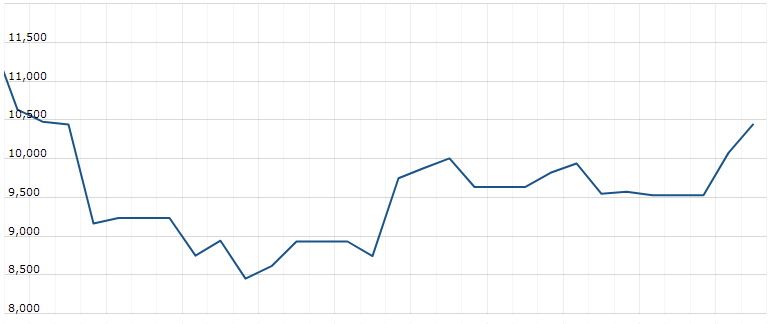 WORLD MARKETS
For the day the Dow is trading at 22,679.99 up with +7.73% percent or +1,627.46 point. The S&P 500 is trading at 2,663.68 up with +7.03% percent or +175.03 point. The Nasdaq Composite is trading at 7,913.24 up with +7.33% percent or +540.15  point.
In other parts of world, Japan's Nikkei 225 is trading at 18,950.18 up with +2.01% percent or +373.88 point. Hong Kong's Hang Seng is trading at 24,147.31 up with +1.68%  percent or +398.19  point. China's Shanghai  Composite is trading at 2,818.58 up with +1.98% percent or +54.59  point. India's BSE Sensex is trading at 29,259.04 up with +6.05% percent or +1,668.09 point at 12:15 PM.