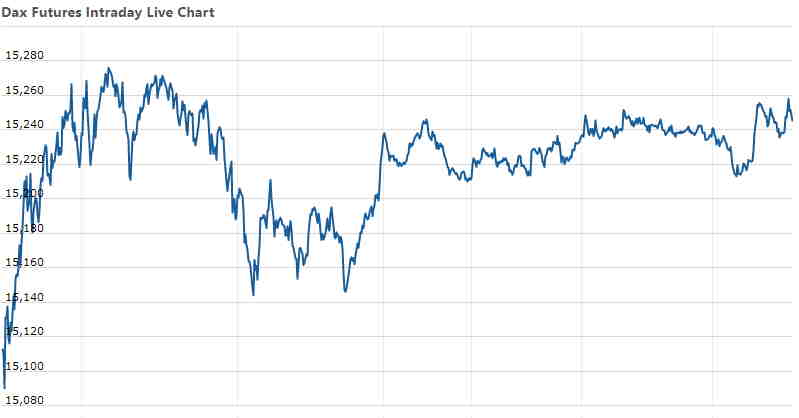 DAX Futures Update : 15 March. 2023
The DAX Futures is trading at 15,222.0 with -0.01% percent -2.0 point. The FTSE 100 Futures is trading at 7,616.00 with a loss of -0.05% percent or -4.00 point. The CAC 40 Futures is tradingat 7,148.20 with +1.82% percent or +128.00 point. The EURO Stoxx 50 Futures trading at 4,112.00 with -1.49% percent or -62.00 point.
TODAY'S FACTORS AND EVENTS
Germany's 10-year government bond yield extended losses to 2.3%, touching the lowest level since February 9th, as investors rushed for safety following the Silicon Valley Bank's collapse and bet on a less aggressive monetary tightening path from the Federal Reserve. The declines came even after US authorities stepped up efforts to shore up confidence in the banking system by announcing it would protect "all depositors" at SVB and establishing a new lending program. Elsewhere, investors awaited the European Central Bank's policy meeting due Thursday at which policymakers are expected to deliver another 50 bps rate hike to combat inflation e despite the ongoing risks to growth and financial stability.
YESTERDAY ACTIVITY
For the day Germany's DAX closed at 15,232.83 with 1.83% percent or +273.36 point.the FTSE 100 closed at 7,637.11 with 1.17% percent or +88.48  point. France's CAC 40 closed at 7,141.57 with 1.86% percent or +130.07 point.
WORLD MARKETS
For the day the Dow is trading at 32,155.40 with 1.06% percent or +336.26 point. The S&P 500 is trading at 3,919.29 with 1.65% percent or +63.53 point. The Nasdaq Composite is trading at 11,428.15 with 2.14% percent or +239.31 point.
In other parts of world, Japan's Nikkei 225 is trading at 27,250.77 with 0.11% percent or +28.73  point. Hong Kong's Hang Seng is trading at 19,498.31 with 1.30% percent or +250.35   point. China's Shanghai Composite is trading at 3,266.88 with 0.66% percent or +21.57 point. India's BSE Sensex is trading at 58,115.07 up with 0.37% percent or +214.88 point at 12:15 PM.