The DAX Futures is trading at 10,212.50 up with +0.55% or +55.50 point.The FTSE 100 Futures is trading at 5,592.00  with a loss of -1.50% percent or -85.00 point. The CAC 40 Futures is trading at 4,373.50 with a loss of -1.43% percent or -63.50 point.  The EURO Stoxx 50 Futures trading at 2,780.00 with a loss of -1.52% percent or -43.00 point.
TODAY'S FACTORS AND EVENTS
Conversely, a return of risk aversion may see the DAX retest support beneath – namely the trendline nearby which traces its origin to 2009. Since price action around the level has become rather messy, considering a possible zone of support from 9,360 to 9,530 may be more appropriate than a single mark. Secondary support will look to reside at 8,000 and has effectively become the "line in the sand" for warding off further losses.
YESTERDAY ACTIVITY
For the day Germany's DAX closed at 10,356.70 up with +2.79% percent or +281.53   point.the FTSE 100 closed at 5,704.45 up with +2.19%percent or +122.06 point. France's CAC  40 closed at 4,438.27 up with +2.12% percent or +92.14 point.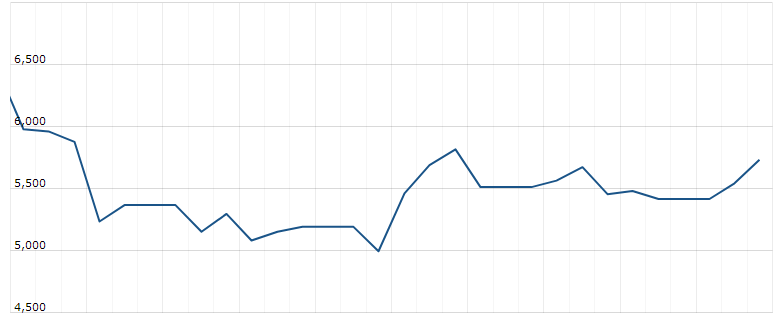 WORLD MARKETS
For the day the Dow is trading at 22,653.86 with a loss of –0.12% percent or ?26.13 point. The S&P 500 is trading at 2,659.41  with a loss of –0.16% percent or ?4.27 point. The Nasdaq Composite is trading at 7,887.26  with a loss of –0.33% percent or –25.98  point.
In other parts of world, Japan's Nikkei 225 is trading at 19,359.86 up with +2.16% percent or +409.68 point. Hong Kong's Hang Seng is trading at 23,923.61 with  a loss of –1.36%  percent or –329.68  point. China's Shanghai  Composite is trading at 2,811.17 with a loss of –0.34% percent or –9.59  point. India's BSE Sensex is trading at 30,050.48  with  a loss of –0.056% percent or –16.73 point at 12:15 PM.