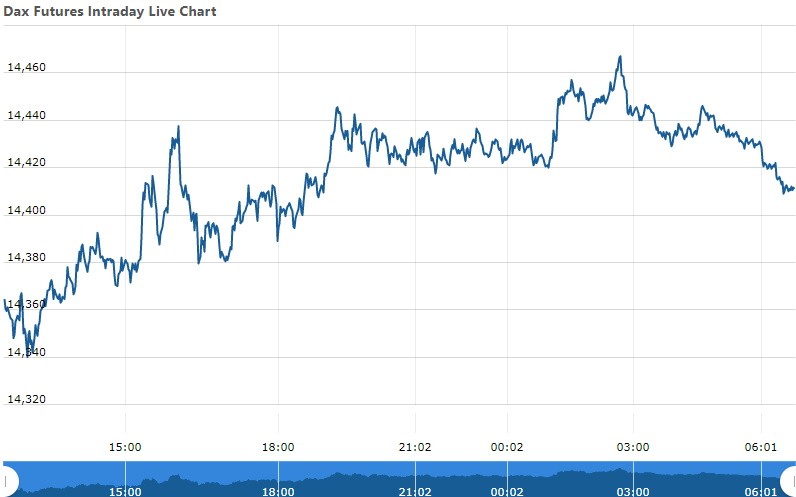 DAX Futures Update : 22 Nov. 2022
The DAX Futures is trading at 14,412.0 with -0.08% percent -11.4 point. The FTSE 100 Futures is trading at 7,408.20 with -0.08% percent or -5.60 point. The CAC 40 Futures is trading at 6,651.20 with +0.06% percent or +4.00 point. The EURO Stoxx 50 Futures trading at 3,916.00 with a loss of -0.10% percent or -4.00 point.
TODAY'S FACTORS AND EVENTS
The annual inflation rate in Germany was at 10.4% in October 2022, matching the preliminary reading and hitting a fresh peak since the reunification, amid euro weakness, a deepening energy crisis, and lingering supply chain issues. The goods inflation rose to 17.8% in October from 17.2% a month earlier, led by high cost of energy (43.0% vs 43.9% in September) and an acceleration in food prices (20.3% vs 18.7%). Also, cost of services quickened (4.0% vs 3.6%), with rent prices rising further by 1.8%. The prices of energy products increased sharply, especially for natural gas (109.8%), heating oil (35.6%), electricity (26.0%), and motor fuels (22.3%). On a monthly basis, consumer prices were up 0.9% in October. The CPI, harmonized to compare with other European countries, increase 11.6% on the year, the highest level on record; and went up 1.1% month-on-month.
YESTERDAY ACTIVITY
For the day Germany's DAX closed at 14,379.93 with a loss of -0.36% percent or ??51.93 point.the FTSE 100 closed at 7,376.85 with a loss of -0.12% percent or?8.67 point. France's CAC 40 closed at 6,634.45 with 0.15% percent or ?10.01  point.
WORLD MARKETS
For the day the Dow is trading at 33,553.83 up with 0.12% percent or ?39.09  point. The S&P 500 is trading at 3,958.79 with a loss of –0.83% percent or ?32.94 point. The Nasdaq Composite is trading at 11,183.66 with 1.54% percent or ?174.75 point.
In other parts of world, Japan's Nikkei 225 is trading at 27,928.03 with a loss of –0.36% percent or ?100.27 point. Hong Kong's Hang Seng is trading at 17,871.12 with a loss of –2.11% percent or ?385.36  point. China's Shanghai Composite is trading at 3,104.22 up with 0.51% percent or ?15.76 point. India's BSE Sensex is trading at 61,861.09  with a loss of –0.19% percent or ?119.63 point at 12:15 PM.