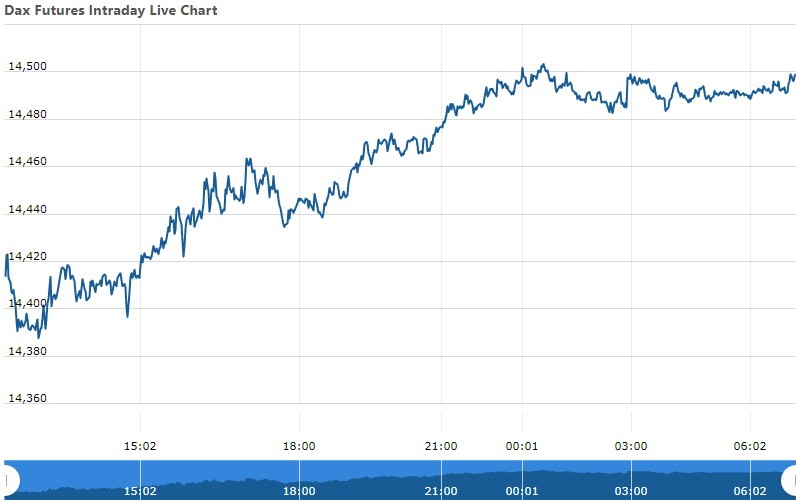 DAX Futures Update : 23 Nov. 2022
The DAX Futures is trading at 14,491.5 with -0.04% percent -5.3 point. The FTSE 100 Futures is trading at 7,473.00 with +0.10% percent or +7.20 point. The CAC 40 Futures is trading at 6,682.20 with +0.47% percent or +31.00 point.The EURO Stoxx 50 Futures trading at 3,946.00 with a loss of -0.05% percent or -2.00 point.
TODAY'S FACTORS AND EVENTS
The yield on Germany's 10-year government bond held around 2%, well below the 11-year high of 2.5% hit on October 21st as investors weighed mixed signals from European Central Bank policymakers on the course of monetary tightening. ECB President Lagarde said the central bank would keep raising rates to combat inflation despite risks of recession, while policymaker Holzmann said he would favor a third straight 75 bps rise in the deposit rate next month. At the same time, other ECB officials suggested the central bank could slow its pace of rate hikes. Investors are now expecting a 50 basis-point hike in December, and see the reduction of bond holdings starting in the first half of 2023. Last week, the ECB announced that Eurozone banks are set to repay €296 billion in multi-year loans from the ECB this week, less than the €500 billion expected by markets, in the first voluntary repayment window of the ECB's TLTRO since terms were changed in October.
YESTERDAY ACTIVITY
For the day Germany's DAX closed at 14,422.35 up with 0.29% percent or +42.42 point.the FTSE 100 closed at 7,452.84 with 1.03% percent or +75.99 point. France's CAC 40 closed at 6,657.53 with 0.35% percent or +23.08  point.
WORLD MARKETS
For the day the Dow is trading at 34,098.10 up with +1.18% percent or +397.82 point. The S&P 500 is trading at 4,003.58with 1.36% percent or +53.64 point. The Nasdaq Composite is trading at 11,174.41 up with +1.36% percent or +149.90 point.
In other parts of world, Japan's Nikkei 225 is trading at 28,115.74 with 0.61% percent or +170.95  point. Hong Kong's Hang Seng is trading at 17,527.11 up with 0.59% percent or +102.70  point. China's Shanghai Composite is trading at 3,091.33 up with 0.077% percent or +2.39  point. India's BSE Sensex is trading at 61,512.95 with 0.15% percent or +93.99 point at 12:15 PM.