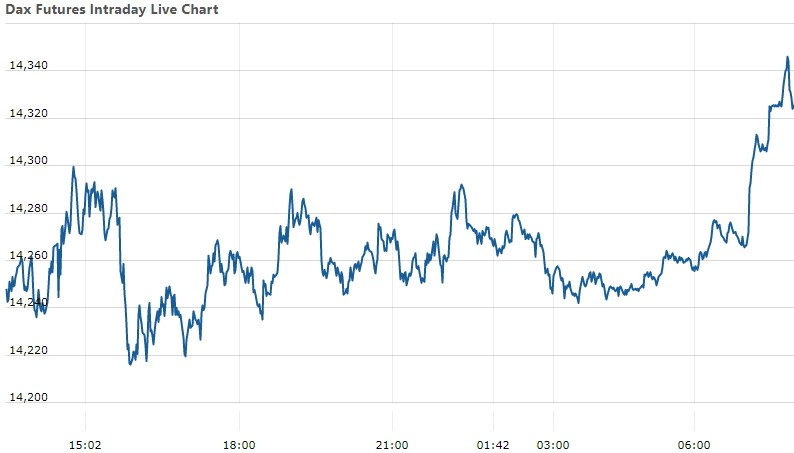 DAX Futures Update : 17 Nov. 2022
The DAX Futures is trading at 14,340.0 with +0.56% percent +80.0 point.The FTSE 100 Futures is trading at 7,350.50 with -0.11% percent or -8.00 point. The CAC 40 Futures is trading at 6,596.20 with a loss of -0.66% percent or -43.80 point.  The EURO Stoxx 50 Futures trading at 3,898.00 up with +0.39% percent or +15.00 point.
TODAY'S FACTORS AND EVENTS
The ZEW Indicator of Economic Sentiment for Germany rose sharply by 22.5 points to -36.7 in November 2022, the highest since June and above market expectations of -50.0. The latest reading suggested the economic outlook for Germany has improved significantly compared to October, likely due to hopes that inflation rates will fall soon and policymakers will not have to tighten monetary policy as hard and/or for as long as feared. About 50.8 percent of the surveyed analysts predicted a deterioration in economic activity over the coming months, while 14.1 percent of them expected it to get better and 35.1 percent expected no changes. Meanwhile, the assessment of the economic situation in Germany has also improved, with the corresponding indicator rising 7.7 points to -64.5.
YESTERDAY ACTIVITY
For the day Germany's DAX closed at 14,234.03 with a loss of -1.00% percent or ?144.48 point. the FTSE 100 closed at 7,351.19 up with 0.25% percent or ?18.25 point. France's CAC 40 closed at 6,607.22 with 0.52% percent or ?34.44  point.
WORLD MARKETS
For the day the Dow is trading at 33,553.83 up with 0.12% percent or ?39.09  point. The S&P 500 is trading at 3,958.79 with a loss of –0.83% percent or ?32.94 point. The Nasdaq Composite is trading at 11,183.66 with 1.54% percent or ?174.75 point.
In other parts of world, Japan's Nikkei 225 is trading at 27,928.03 with a loss of –0.36% percent or ?100.27 point. Hong Kong's Hang Seng is trading at 17,871.12 with a loss of –2.11% percent or ?385.36  point. China's Shanghai Composite is trading at 3,104.22 up with 0.51% percent or ?15.76 point. India's BSE Sensex is trading at 61,861.09  with a loss of –0.19% percent or ?119.63 point at 12:15 PM.