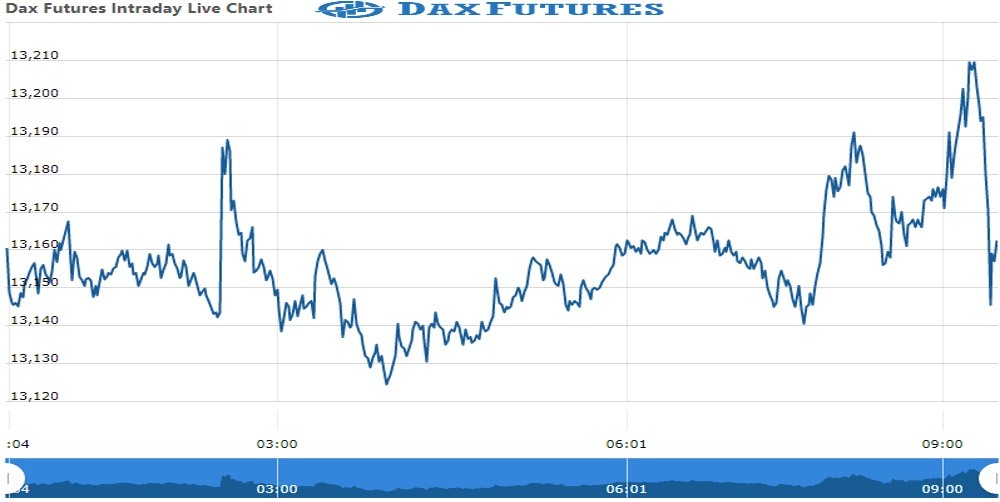 DAX Futures Update : 25 July. 2022
The DAX Futures is trading at 13,156.5 with a loss of -0.03% percent -4.0 point. The FTSE 100 Futures is trading at 7,199.20 up with +0.02% percent or +1.20 point. The CAC 40 Futures is tradingat 6,178.20 up with  +0.02% percent or +1.20 point. The EURO Stoxx 50 Futures trading at 3,572.00 with +0.00% percent or +0.00 point.
TODAY'S FACTORS AND EVENTS
The yield on the German 10-year Bund fell below the 1.1% mark, the lowest in more than seven weeks as investors fled to safety amid heightened recession concerns. Fresh PMI figures from July came well below expectations, with domestic and Euro Area figures unexpectedly dropping to contraction territory. The low readings added to concerns for the outlook of European economies after the ECB raised interest rates by a larger than expected 50 basis points, its first increase in borrowing costs in 11 years. The central bank also unveiled the Transmission Protection Instrument, which will allow the ECB to purchase selected government bonds in an attempt to prevent excessive financial fragmentation between different Eurozone members.
YESTERDAY ACTIVITY
For the day Germany's DAX closed at 13,253.68 with +0.053% percent or +7.04   point. the FTSE 100 closed at 7,276.37 up with +0.081% percent or +5.86  point. France's CAC 40 closed at 6,216.82 up with +0.25% percent or +15.71 point.
WORLD MARKETS
For the day the Dow is trading at 31,899.29 with a loss of –0.43% percent or -137.61 point. The S&P 500 is trading at 3,961.63 with a loss of -0.93% percent or -37.32  point. The Nasdaq Composite is trading at 11,834.11 up with 1.87% percent or -225.50 point.
In other parts of world, Japan's Nikkei 225 is trading at27,702.69 with a loss of –0.76% percent or -211.97 point. Hong Kong's Hang Seng is trading at 20,440.15 with a loss of –0.82% percent or -168.99 point. China's Shanghai Composite is trading at 3,246.20 with a loss of –0.73% percent or -23.78 point. India's BSE Sensex is trading at 55,675.84 with a loss of –0.71% percent or -396.39 point at 12:15 PM.