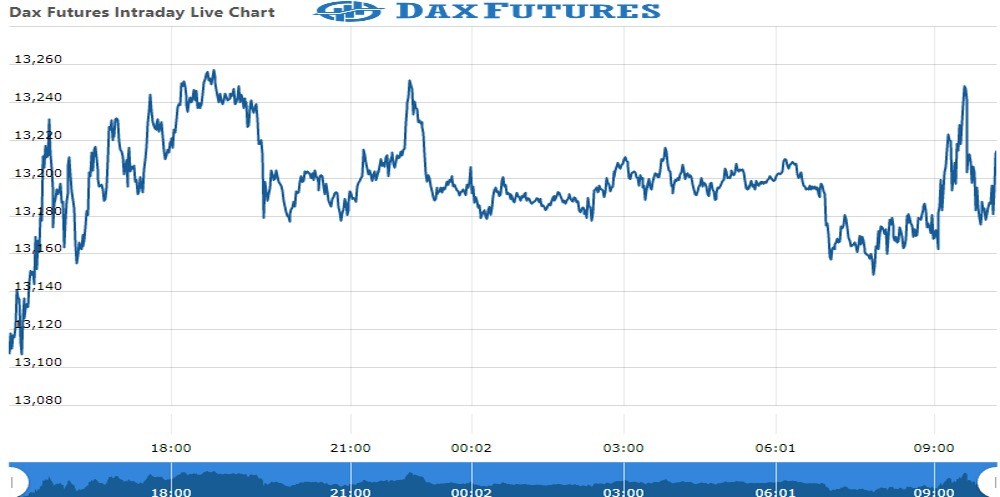 FTSE Futures Update : 22 July. 2022
The DAX Futures is trading at 13,211.5 with +0.04% percent +5.7 point.The FTSE 100 Futures is trading at 7,239.20 with a loss of -0.07% percent or -5.30 point. The CAC 40 Futures is trading at 6,188.50 with  a loss of -0.33% percent or -20.30 point.The EURO Stoxx 50 Futures trading at 3,586.00 with a loss of -0.22% percent or -8.00 point.
TODAY'S FACTORS AND EVENTS
The S&P Global Germany Services PMI declined to 49.2 in July of 2022 from 52.4 in the previous month and missing market expectations of 51.2, flash estimates showed. The latest reading pointed to the first contraction in services activity in seven months, amid a combination of staff shortages and a retrenchment of new business. Sales in the service sector declined for a second successive month and to the sharpest degree since February 2021. Looking ahead, service providers foresee reduced activity over the next 12 months when compared to present levels for the first time in over two years.
YESTERDAY ACTIVITY
For the day Germany's DAX closed at 13,215.41 with a loss of –0.24% percent or ?31.23   point.the FTSE 100 closed at 7,278.66 up with +0.11% percent or +8.15   point. France's CAC 40 closed at 6,182.23 with a loss of –0.30% percent or –18.88 point.
WORLD MARKETS
For the day the Dow is trading at 32,036.90 up with +0.51% percent or +162.06 point. The S&P 500 is trading at 3,998.95 with 0.99% percent or +39.05  point. The Nasdaq Composite is trading at 12,059.61 up with +1.36% percent or +161.96 point.
In other parts of world, Japan's Nikkei 225 is trading at 27,914.66 up with +0.40% percent or +111.66 point. Hong Kong's Hang Seng is trading at 20,600.54 up with +0.13% percent or +25.91 point. China's Shanghai Composite is trading at 3,269.97 with a loss of –0.062% percent or -2.03 point. India's BSE Sensex is trading at 55,920.21 up with +0.43% percent or +238.26 point at 12:15 PM.