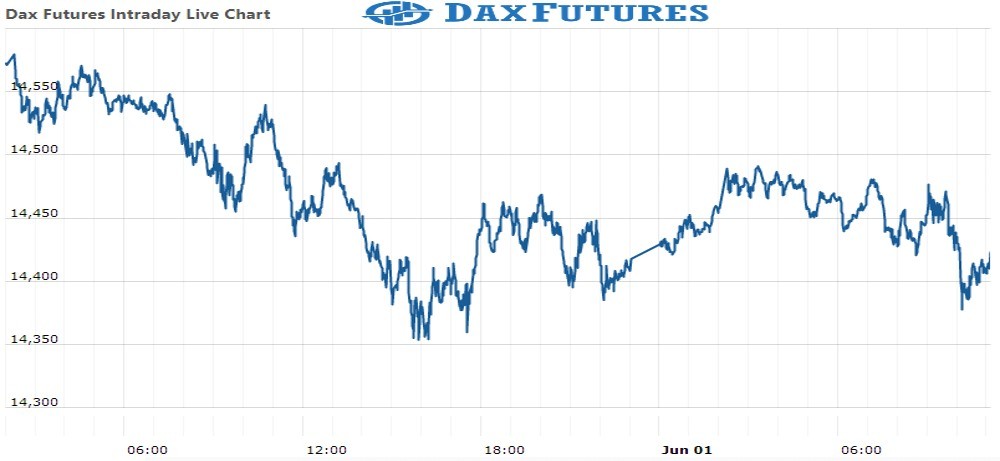 DAX Futures Update : 01 June. 2022
The DAX Futures is trading at 14,411.0 with +0.24% percent  +34.0 point.The FTSE 100 Futures is trading at 7,594.80  up with +0.12% percent or +9.30 point. The CAC 40 Futures is trading at 6,466.80 with +0.16% percent or +10.30 point.The EURO Stoxx 50 Futures trading at 3,790.00 with +0.16% percent or +6.00 point.
TODAY'S FACTORS AND EVENTS
Germany Manufacturing PMI was revised slightly higher to 54.8 in May of 2022 from a preliminary of 54.7 and above 54.6 in April. Still, the index remains below previous year's levels amid a sustained softening of demand for German manufactured goods, with a combination of heightened economic uncertainty, sharply rising prices and COVID-related lockdowns in China leading to a further decline in new orders. Output levels nevertheless picked up slightly during the month, buoyed by work on order backlogs, growing employment levels and some instances of improved material availability. On the price front, input cost inflation eased to a three-month low while output prices rose at a rate close to April's record. Meanwhile, firms' expectations for future activity remained pessimistic.
YESTERDAY ACTIVITY
For the day Germany's DAX closed at 14,414.50 with +0.20% percent or +27.73 point.the FTSE 100 closed at 6,596.15  with a loss of  –69.51 percent or -0.11  point. France's CAC 40 closed at 6,477.76 up with +0.14% percent or +8.96 point.
WORLD MARKETS
For the day the Dow is trading at 32,990.12  with a loss of –0.67% percent or ?222.84   point. The S&P 500 is trading at 4,132.15 with a loss of –0.63% percent or ?26.09   point. The Nasdaq Composite is trading at 12,081.39  with a loss of –0.41% percent or ?49.74  point.
In other parts of world, Japan's Nikkei 225 is trading at 27,457.89 up with +0.65% percent or +178.09  point. Hong Kong's Hang Seng is trading at 21,294.94 with a loss of –0.56% percent or ?120.26 point. China's Shanghai Composite is trading at 3,182.16 with a loss of –0.13% percent or ?4.27  point. India's BSE Sensex is trading at 55,179.32 with a loss of –0.70% percent or ?387.09  point at 12:15 PM.