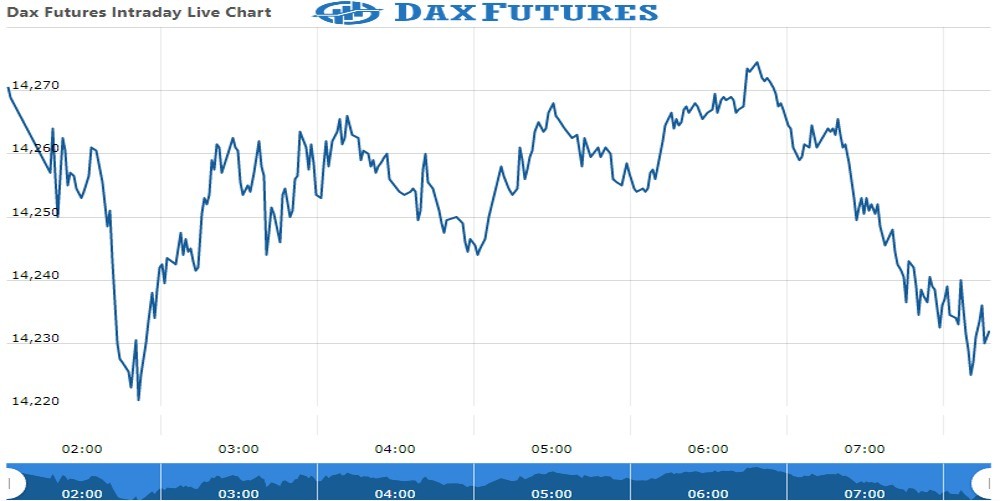 DAX Futures Update : 27 May. 2022
The DAX Futures is trading at 14,240.5 with -0.04% percent  -5.5 point.The FTSE 100 Futures is trading at 7,536.20  with -0.37% percent or -28.30 point. The CAC 40 Futures is trading at 6,401.50 with +2.03% percent or +127.50 point.The EURO Stoxx 50 Futures trading at 3,742.00 with a loss of -0.05% percent or -2.00 point.
TODAY'S FACTORS AND EVENTS
The yield on the German 10-year Bund was below 1%, amid concerns about the economic outlook and its impact on policy tightening. The latest PMIs showed the Eurozone manufacturing sector expanded the least since November 2020 in May and the services sector slowed to a 2-month low, below analyst's estimates. The market currently expects a 25bps rate hike in July, after ECB President Christine Lagarde said the central bank is likely to exit negative interest rates by the end of the third quarter. Her view has been backed by several ECB officials including ECB Knot and ECB Villeroy de Galhau..
YESTERDAY ACTIVITY
For the day Germany's DAX closed at 14,231.29 with 1.59% percent or +223.36 point.the FTSE 100 closed at 7,564.92 up with +0.56% percent or +42.17  point. France's CAC 40 closed at 6,410.58 up with +1.78% percent or +111.94 point.
WORLD MARKETS
For the day the Dow is trading at 32,637.19 up with +1.61% percent or +516.91   point. The S&P 500 is trading at 4,057.84 up with1.99% percent or +79.11  point. The Nasdaq Composite is trading at 11,740.65  up with +2.68% percent or +305.91  point.
In other parts of world, Japan's Nikkei 225 is trading at 26,753.68 up with +0.56% percent or +148.84  point. Hong Kong's Hang Seng is trading at 20,588.37 up with +2.35% percent or +472.17  point. China's Shanghai Composite is trading at 3,128.87 up with +0.18% percent or +5.76  point. India's BSE Sensex is trading at 54,581.01 up with +0.61% percent or +328.48  point at 12:15 PM.