The DAX Futures is trading at 12,819.80 up with +0.63% or +80.80 point.The FTSE 100 Futures is trading at 6,199.80 up with  +1.01% percent or +61.80  point. The CAC 40 Futures is trading at 5,059.20 up with +1.05% percent or +52.70 point.The EURO Stoxx 50 Futures trading at 3,346.00 up with +1.27% percent or +42.00 point.
TODAY'S FACTORS AND EVENTS
Turn-around Tuesday" began yesterday with a key reversal in the high-flying NASDAQ. It soared to new record highs before selling off and settling below the previous low. The S&P 500 saw new four-month highs and then sold-off and ended on its lows with a loss of nearly 1% on the session. Asia Pacific shares fell, led by declines in Hong Kong and India. The main Chinese benchmarks were off less than 1%. The Dow Jones Stoxx 600 is off about 1.3% in late morning turnover in Europe, while US shares are flat to slightly higher.
YESTERDAY ACTIVITY
For the day Germany's DAX closed at 12,697.36 with a loss of -0.80% percent or –102.61 point.the FTSE 100 closed at 6,179.75 up with 0.058% percent or +3.56 point. France's CAC  40 closed at 5,007.46 with a loss of –0.96% percent or –48.77  point.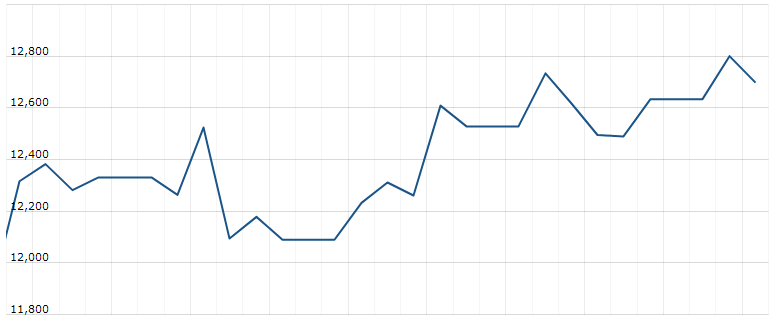 WORLD MARKETS
For the day the Dow is trading at 26,642.59 up with +2.13% percent or +556.79 point. The S&P 500 is trading at 3,197.52 up with +1.34% percent or +42.30  point. The Nasdaq Composite is trading at 10,488.58 up with +0.94% percent or +97.73 point.
In other parts of world, Japan's Nikkei 225 is trading at at 22,945.50 up with +1.59% percent or +358.49 point. Hong Kong's Hang Seng is trading at 25,460.44 with a loss of  –0.068% percent or –17.45  point. China's Shanghai  Composite is trading at 3,389.57 with a loss of –0.73% percent or –25.05  point. India's BSE Sensex is trading at 36,697.89 up with +1.85% percent or +664.83  point at 12:15 PM.