The DAX Futures is trading at 12,826.30  with a loss of -0.68% or -88.20 point.The FTSE 100 Futures is trading at 6,238.00 with a loss of -0.52% percent or -32.50  point. The CAC 40 Futures is trading at 5,074.00  with a loss of -0.68% percent or -34.50 point.  The EURO Stoxx 50 Futures trading at 3,340.00 with a loss of -1.04% percent or -35.00 point.
TODAY'S FACTORS AND EVENTS
There was a mixed tone in the markets today with European indices sharply lower as DAX traded more than -1.5% down while the US futures held their own trading about a third a percent higher across the board.
The Bloomberg survey anticipated a decrease of 2%. Imports rose by 2%. The median forecast was for a 9% decline after a 16.7% fall in May. This resulted in a trade surplus of $46.4 bln, down from almost $63 bln previously. Regionally, exports rose to ASEAN (1.6%) and the US (1.4%). The two together account for around a third of PRC exports. The exports of medical goods rose by 100%, while exports to furniture and electrical lighting equipment rose by 8.4% and 9.9%, respectively. Energy imports soared (crude oil imports rose 19.2% on the month) as did soy. China appears to have stepped up its purchases of US grains in recent weeks.
YESTERDAY ACTIVITY
For the day Germany's DAX closed at 12,930.98 up with +1.84% percent or +233.62 point.the FTSE 100 closed at 6,262.25 with a loss of –0.48% percent or –30.40 point. France's CAC  40 closed at 5,108.98 up with +2.03% percent or +101.53   point.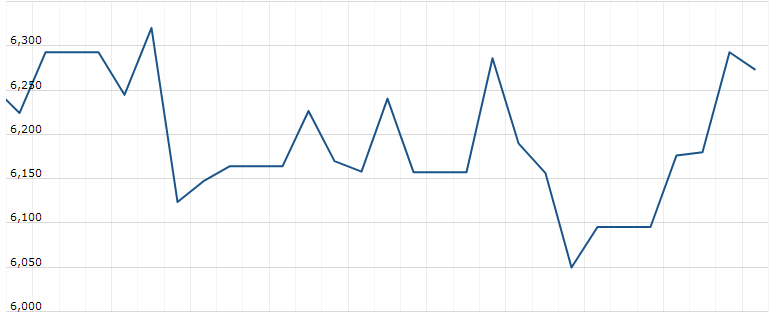 WORLD MARKETS
For the day the Dow is trading at 26,870.10 up with +0.85% percent or +227.51 point. The S&P 500 is trading at 3,226.56 up with +0.91% percent or +29.04 point. The Nasdaq Composite is trading at 10,550.49 up with +0.59% percent or +61.92 point.
In other parts of world, Japan's Nikkei 225 is trading at at 22,770.36 with a loss of –0.76% percent or –175.14 point. Hong Kong's Hang Seng is trading at 25,100.10 with a loss of  –1.50% percent or –381.48  point. China's Shanghai  Composite is trading at 3,210.10 with a loss of –4.50% percent or –151.21 point. India's BSE Sensex is trading at 36,246.70 up with +0.54% percent or +194.89  point at 12:15 PM.