The DAX Futures is trading at 12,511.30 with a loss of -0.01% or -1.00 point.The FTSE 100 Futures is trading at 6,086.00  with a loss of -1.14% percent or -70.00  point. The CAC 40 Futures is trading at 4,982.50 with a loss of -1.05%percent or -53.00 point.  The EURO Stoxx 50 Futures trading at 3,278.00 with a loss of -1.03% percent or -34.00 point.
TODAY'S FACTORS AND EVENTS
It's been a generally quiet night of trade in the markets today but with clear risk-off tone in both FX and equities as some of the enthusiasm from the rally in Chinese assets has begun to dissipate.
Chinese equities rallied once again but the move was much muted as the CSI 300 settled only 0.68% up after putting in a torrid rally over the past five days. One reason for the change of tone may be the escalation of hostilities between the US and China with Secretary Pompeo threatening to ban Tik Tok in the US as one form of retaliation against the passage of the security act in Hong Kong.
YESTERDAY ACTIVITY
For the day Germany's DAX closed at 12,616.80 with a loss of -0.92%percent or –116.65 point.the FTSE 100 closed at 6,189.90 with a loss of –1.53% percent or –96.04  point. France's CAC  40 closed at 5,043.73  with a loss of –0.74% percent or –37.78 point.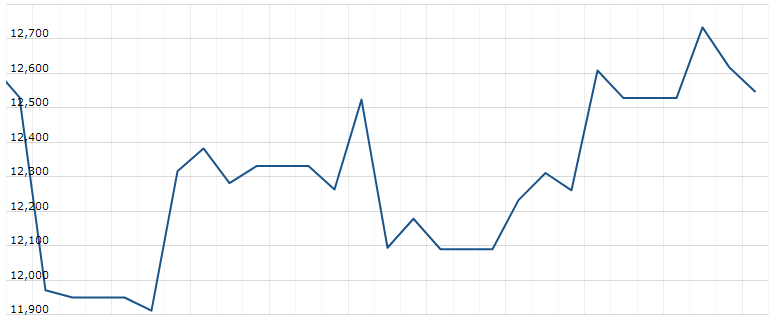 WORLD MARKETS
For the day the Dow is trading at 25,890.18  with a loss of -1.51% percent or -396.85 point. The S&P 500 is trading at 3,145.32 with a loss of –1.08% percent or -34.40 point. The Nasdaq Composite is trading at 10,343.89 with a loss of -0.86% percent or -89.76 point.
In other parts of world, Japan's Nikkei 225 is trading at at 22,438.65 with a loss of  –0.78% percent or –176.04 point. Hong Kong's Hang Seng is trading at 26,094.61 up with +0.46% percent or +118.95  point. China's Shanghai  Composite is trading at 3,410.59 up with +1.95%percent or +65.25  point. India's BSE Sensex is trading at 36,596.64 with  a loss of  -0.21% percent or –77.88 point at 12:15 PM.