The DAX Futures is trading at 12,230.50 with a loss of -0.39% or –47.60 point. The FTSE 100 Futures is trading at 6,181.00 with a loss of -0.35% percent or -21.50  point. The CAC 40 Futures is trading at 4,918.80  with a loss of -0.07% percent or -3.20 point. The EURO Stoxx 50 Futures trading at 3,212.00 with a loss of -0.31% percent or -10.00 point.
TODAY'S FACTORS AND EVENTS
There was little market news to drive flows, but the lingering concerns over coronavirus have cast a shadow over markets, as total infections reached 10 million and total death toll crossed the 500,000 mark. However, fears about the pandemic are having less and less impact on capital markets, as investors accept the fact that the battle against the virus is likely to be an ongoing one for at least a year. Meanwhile, with mortality rates declining and new protocols having success, the markets have decided that the existential risks from COVID-19 have disappeared.
YESTERDAY ACTIVITY
For the day Germany's DAX closed at 12,243.36 up with +0.092% percent or  +11.24 point. the FTSE 100 closed at 6,212.22 with a loss of –0.22% percent or –13.55  point. France's CAC  40 closed at 4,945.14  with a loss of –0.0063% percent or –0.0063% point.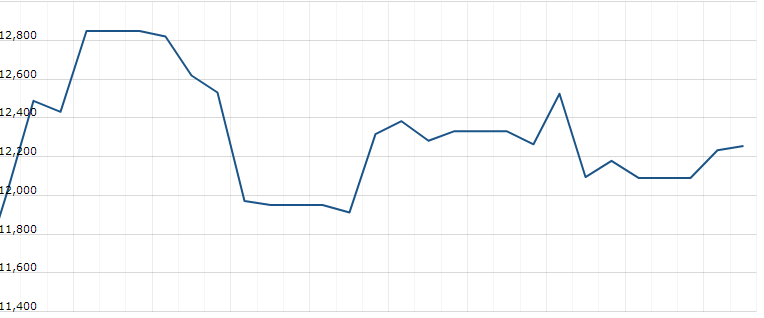 WORLD MARKETS
For the day the Dow is trading at 25,595.80 up with 2.32% percent or +580.25 point. The S&P 500 is trading at 3,053.24 up with +1.47% percent or +1.47% point. The Nasdaq Composite is trading at 9,874.15 with +1.20% percent or +116.93  point.
In other parts of world, Japan's Nikkei 225 is trading at at 22,288.14 up with 1.33% percent or +293.10 point. Hong Kong's Hang Seng is trading at 24,395.65 with 0.39% percent or +94.37  point. China's Shanghai  Composite is trading at 2,984.67 with +0.78% percent or +23.16  point. India's BSE Sensex is trading at 35,162.98 with 0.58%  percent or +201.46  point at 12:15 PM.