The DAX Futures is trading at 111,758.50  with a loss of -1.34% or -159.50 point. The FTSE 100 Futures is trading at 5,990.80 with a loss of -0.99% percent or -59.70  point. The CAC 40 Futures is trading at 4,725.80 with a loss of -2.31% percent or -111.70 point. The EURO Stoxx 50 Futures trading at 3,066.00 with a loss of -1.54% percent or -48.00 point.
TODAY'S FACTORS AND EVENTS
European shares are opening weaker. Fears of a second-wave are dampening the optimism surrounding several European counties opening borders to allow tourism today. The DAX has tumbled 400 points, taking it below the key 12,000 thresholds after the weaker data from China hurt the prospect of a quick rebound in orders for German exporters. The FTSE 100 is the exception to the rule, pushing higher. A weaker Sterling is increasing the value of overseas profits accounted for in pounds.
YESTERDAY ACTIVITY
For the day Germany's DAX closed at 11,802.66 with a loss of -1.23%percent or –146.62 point.the FTSE 100 closed at 6,013.00 with a loss of –1.51% percent or –92.18  point. France's CAC  40 closed at 4,776.85 with a loss of –1.29% percent or –62.41  point.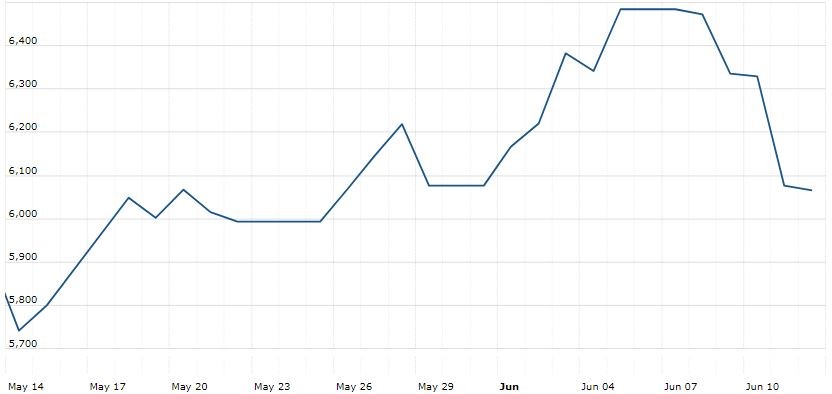 WORLD MARKETS
For the day the Dow is trading at 25,605.54 up with +1.90% percent or +477.37 point. The S&P 500 is trading at 3,041.31 with +1.31% percent or +39.21 point. The Nasdaq Composite is trading at 9,588.81 up with +1.01% percent or +96.08  point.
In other parts of world, Japan's Nikkei 225 is trading at at 21,530.95  with a loss of –3.47% percent or –774.53 point. Hong Kong's Hang Seng is trading at 23,776.95 with a loss of –2.16% percent or –524.43 point. China's Shanghai  Composite is trading at 2,890.03  with a loss of –1.02% percent or –29.71 point. India's BSE Sensex is trading at 33,274.02 with a loss of -1.50% percent or –506.87 point at 12:15 PM.