The DAX Futures is trading at 11,967.30  up with +1.04% or +123.40 point.The FTSE 100 Futures is trading at 6,015.30 with a loss of -1.23% percent or -75.20  point. The CAC 40 Futures is trading at 4,817.80 up with +0.07%percent or +3.30 point.  The EURO Stoxx 50 Futures trading at 3,148.00 with a loss of -0.13% percent or -4.00 point.
TODAY'S FACTORS AND EVENTS
European equities showed early signs of weakness this week as sellers took control to push them beneath their recent peaks. Up until Thursday, US indices had not displayed serious signs of weakness as traders awaited the Fed rate decision. With the event risk passed, the DAX 30, FTSE 100 and CAC 40 have been joined by their US counterparts and selling has picked up pace. With accommodative central banks and governments behind them, the catalyst behind the recent retracement in developed equities is unclear, so how far will stocks fall
YESTERDAY ACTIVITY
For the day Germany's DAX closed at 11,871.85 with a loss of -0.82% percent or –98.44 point. the FTSE 100 closed at 6,071.15 with a loss of –0.091% percent or –5.55  point. France's CAC  40 closed at 4,764.95 with a loss of –1.05% percent or –50.64  point.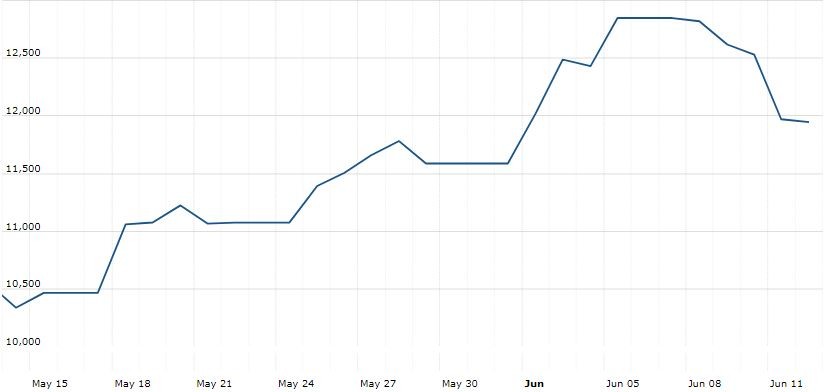 WORLD MARKETS
For the day the Dow is trading at 25,128.17 with a loss of -6.90%percent or -1,861.82 point. The S&P 500 is trading at 3,002.10 with a loss of –5.89% percent or -188.04 point. The Nasdaq Composite is trading at 9,492.73 with a loss of -5.27% percent or -527.62  point.
In other parts of world, Japan's Nikkei 225 is trading at at 22,305.48  with a loss of –0.75% percent or –167.43 point. Hong Kong's Hang Seng is trading at 24,220.46 with a loss of –1.06%percent or –259.69 point. China's Shanghai  Composite is trading at 2,919.74  with a loss of –0.040% percent or –1.16 point. India's BSE Sensex is trading at 33,021.23 with a loss of -1.54% percent or –517.14 point at 12:15 PM.