The DAX Futures is trading at 12,194.20  with a loss of -2.35% or -293.80 point. The FTSE 100 Futures is trading at 6,153.20 with a loss of -2.68% percent or -169.30  point. The CAC 40 Futures is trading at 4,899.20 with a loss of -3.01% percent or -152.30 point. The EURO Stoxx 50 Futures trading at 3,198.00 with a loss of -3.03% percent or -100.00 point.
TODAY'S FACTORS AND EVENTS
CMC Markets analyst David Madden said: "The Fed kept interest rates on hold at 0.0-0.25%, which met economists' forecasts. The Fed will continue to purchases treasuries and mortgage-backed securities at its current rate of $80 billion per month and $40 billion per month respectively. Jerome Powell, the head of the US central bank, basically said that interest rates will remain at or near their current level until at least 2022. Mr Powell stated that rates will stay close to zero until the US is on track to achieve maximum employment.
YESTERDAY ACTIVITY
For the day Germany's DAX closed at 12,203.97 with a loss of -2.60%percent or –326.19 point.the FTSE 100 closed at 6,165.00 with a loss of –2.59% percent or –164.13  point. France's CAC  40 closed at 4,916.53 with a loss of –2.71% percent or –136.88  point.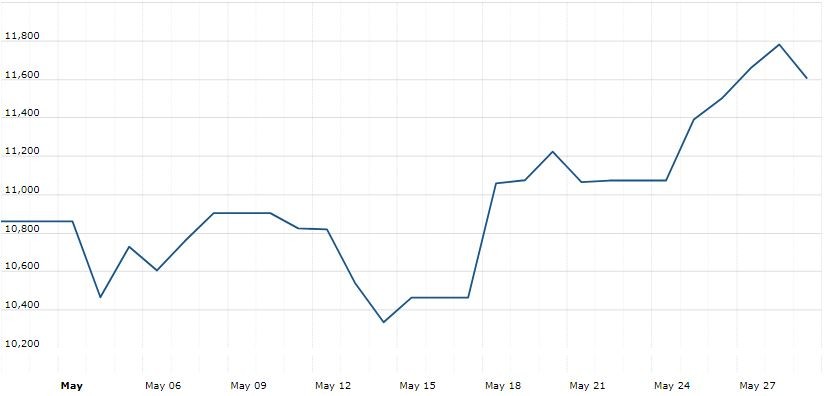 WORLD MARKETS
For the day the Dow is trading at 26,989.99 with a loss of -1.04% percent or -282.31 point. The S&P 500 is trading at 3,190.14 with a loss of –0.53% percent or -17.04 point. The Nasdaq Composite is trading at 10,020.35 up with +0.67% percent or +66.59  point.
In other parts of world, Japan's Nikkei 225 is trading at at 22,472.91  with a loss of –2.82% percent or –652.04 point. Hong Kong's Hang Seng is trading at 24,572.71 with a loss of –1.90% percent or –477.02 point. China's Shanghai  Composite is trading at 2,920.90  with a loss of –0.78% percent or –22.86 point. India's BSE Sensex is trading at 33,807.54 with a loss of -1.28% percent or –439.51 point at 12:15 PM.