The DAX Futures is trading at 11,180.80 up with +0.93% or +103.20 point.The FTSE 100 Futures is trading at 6,099.80 up with +0.88% percent or +53.30 point.The CAC 40 Futures is trading at 4,498.34 up with +5.16% percent or +220.71 point.The EURO Stoxx 50 Futures trading at 2,926.00 up with +0.76% percent or +22.00 point.
TODAY'S FACTORS AND EVENTS
the DAX 30 has few supportive trendlines to work with. Apart from the Fibonacci level around 10,200, nearby support is relatively sparse which could see the German equity index accelerate lower if the initial level is breached. Thus, a break beneath could open the door to further losses.
YESTERDAY ACTIVITY
For the day Germany's DAX closed at 11,058.87 up with +5.67% percent or +593.70 point.the FTSE 100 closed at 6,097.31 up with +0.81% percent or +48.72 point. France's CAC  40 closed at 4,498.34 up with +5.16% percent or +220.71 point.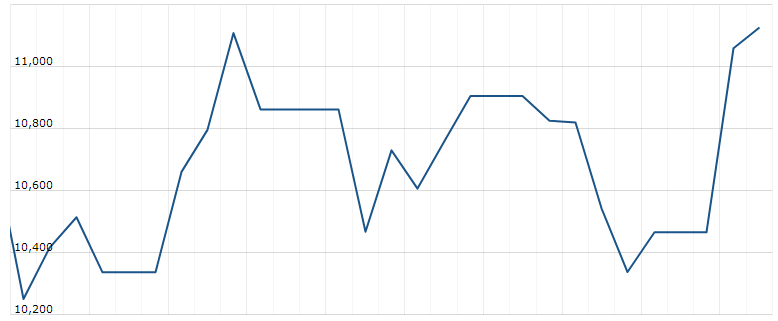 WORLD MARKETS
For the day the Dow is trading at 24,597.37 up with +3.85% percent or +911.95 point. The S&P 500 is trading at 2,953.91 up with +3.15%percent or +90.21 point. The Nasdaq Composite is trading at 9,234.83 up with +2.44% percent or +220.27 point.
In other parts of world, Japan's Nikkei 225 is trading at 20,433.45 up with +1.49% percent or +299.72 point. Hong Kong's Hang Seng is trading at 24,430.15 up with 2.05% percent or +490.18  point. China's Shanghai  Composite is trading at 2,898.58 up with +0.81% percent or +23.16 point. India's BSE Sensex is trading at 30,531.67 up with +1.67% percent or +502.69  point at 12:15 PM.