The DAX Futures is trading at 10,740.20 up with +2.73% or +285.70 point.The FTSE 100 Futures is trading at 5,908.30 up with +1.77% percent or +103.00  point. The CAC 40 Futures is trading  at 4,353.20 up with +1.90% percent or +81.20 point.The EURO Stoxx 50 Futures trading at 2,814.00 up with +2.22% percent or +61.00 point.
TODAY'S FACTORS AND EVENTS
Germany's economy shrank 2.2 percent on quarter in the three months to March 2020, following a 0.1 percent fall in the previous period and entering a recession, a preliminary estimate showed. This was the largest decline in the GDP since the first quarter of 2009 and the second steepest contraction since German unification, as efforts to contain the coronavirus pandemic forced many businesses to close and people to stay at home. Private consumer spending dropped sharply as well as investments in equipment, particularly in machinery, equipment and vehicles. In addition, both exports and imports were down, while increases in government spending and investments in construction helped to support the economy.
YESTERDAY ACTIVITY
For the day Germany's DAX closed at 10,743.74 up with +2.66% percent or +278.57 point.the FTSE 100 closed at 5,922.85 up with +2.12% percent or +123.08 point. France's CAC  40 closed at 4,365.02 up with +2.04% percent or +87.39 point.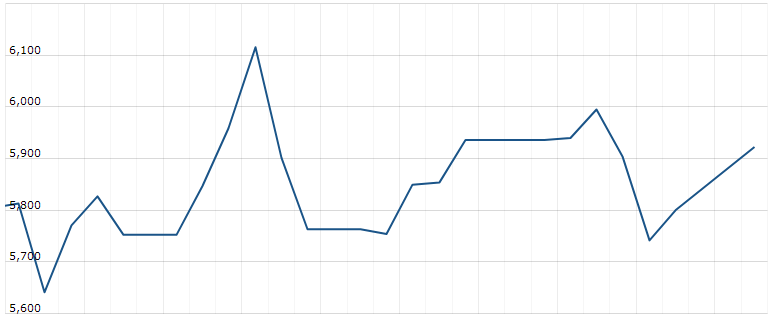 WORLD MARKETS
For the day the Dow is trading at 23,685.42 up with +0.25% percent or +60.08  point. The S&P 500 is trading at 2,863.70 up with +0.39% percent or +11.20 point. The Nasdaq Composite is trading at 9,014.56 up with +0.79% percent or +70.84 point.
In other parts of world, Japan's Nikkei 225 is trading at 20,133.73 up with +0.48% percent or +96.26 point. Hong Kong's Hang Seng is trading at 23,934.77 up with +0.58% percent or +137.30  point. China's Shanghai  Composite is trading at 2,875.42 up with +0.24% percent or +6.96 point. India's BSE Sensex is trading at 30,021.81 with a loss of –3.46% percent or –1,075.92  point at 12:15 PM.