The DAX Futures is trading at 10,830.00  with a loss of -0.35% or -37.50 point.The FTSE 100 Futures is trading at 5,954.80 up with +0.57% percent or +33.80  point. The CAC 40 Futures is trading at 4,477.20  with a loss of -0.22% percent or -9.80 point.  The EURO Stoxx 50 Futures trading at 2,870.00 with a loss of -0.24% percent or -7.00 point.
TODAY'S FACTORS AND EVENTS
The DAX 30 has scampered higher in May thus far, looking to reclaim the ground it lost at the turn of the month. After fluctuating between two technical levels since early April, it seems as though the index has etched a range from resistance around 10,900 to support near 10,200. With that in mind, recent trips above the upper bound may suggest a willingness to continue higher, but trading above the area will have to be sustained before the DAX can solidify its gains and look higher still.
YESTERDAY ACTIVITY
For the day Germany's DAX closed at 10,832.17 up with +0.066% percent or +7.18 point.the FTSE 100 closed at 5,973.53 up with +0.57% percent or +33.80 point. France's CAC  40 closed at 4,485.90 with a loss of –0.096% percent or –4.31 point.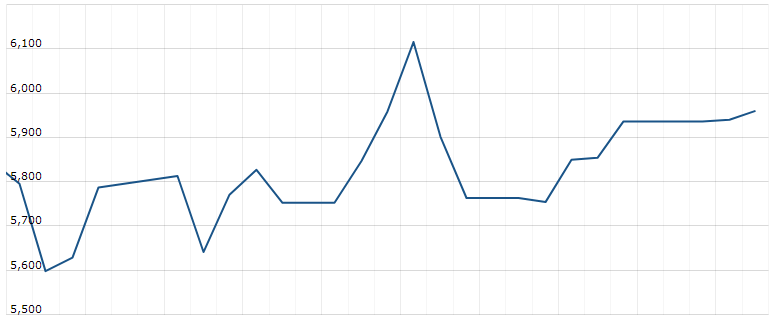 WORLD MARKETS
For the day the Dow is trading at 24,221.99  with a loss of -0.45% percent or -109.33  point. The S&P 500 is trading at 2,930.32 up with +0.018% percent or +0.52 point. The Nasdaq Composite is trading at 9,192.34 up with +0.78%percent or +71.02 point.
In other parts of world, Japan's Nikkei 225 is trading at 20,366.48 with a loss of –0.12% percent or ?24.18  point. Hong Kong's Hang Seng is trading at 24,245.68 with a loss of –1.45% percent or –356.38  point. China's Shanghai  Composite is trading at 2,891.56 with a loss of –0.11% percent or –3.25 point. India's BSE Sensex is trading at 31,447.05  with a loss of –0.36% percent or –114.17  point at 12:15 PM.