The DAX Futures is trading at 10,671.50 up with +0.76% or +80.50 point.The FTSE 100 Futures is trading at 5,924.50 with a loss of -1.07% percent or -64.00  point. The CAC 40 Futures is trading at 4,414.00  with a loss of -1.29% percent or -57.50 point.  The EURO Stoxx 50 Futures trading at 2,832.00 with a loss of -1.39% percent or -40.00 point.
TODAY'S FACTORS AND EVENTS
The DAX has been in a sluggish state lately even if it isn't rolling over with any real type of momentum. The 2011 trend-line and gaps from March 6/9 continue to be the big hurdle for the German benchmark to jump. Another push up into the 11235/11541 area could find yet another rejection. If the market can muster that much of a gain.
YESTERDAY ACTIVITY
For the day Germany's DAX closed at 10,819.50 with a loss of -0.051% percent or –5.49 point.the FTSE 100 closed at 5,936.71  with a loss of –0.97% percent or –58.06 point. France's CAC  40 closed at 4,472.50 with a loss of –0.39% percent or –17.71 point.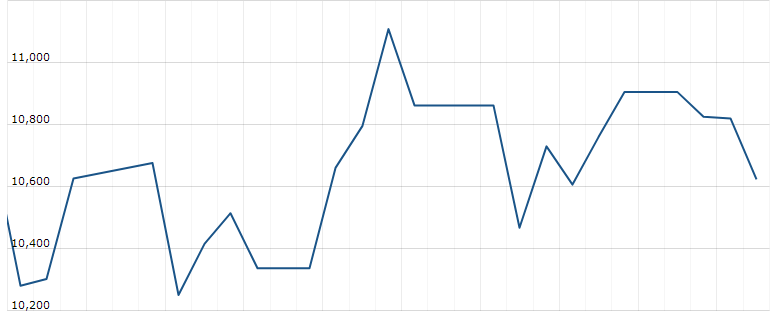 WORLD MARKETS
For the day the Dow is trading at 23,764.78  with a loss of -1.89% percent or -457.21  point. The S&P 500 is trading at 2,870.12  with a loss of –2.05% percent or -60.20 point. The Nasdaq Composite is trading at 9,002.55 with a loss of -2.06% percent or -189.79  point.
In other parts of world, Japan's Nikkei 225 is trading at 20,267.05 with a loss of –0.49% percent or –99.43 point. Hong Kong's Hang Seng is trading at 24,256.26 up with +0.044%percent or +10.58  point. China's Shanghai  Composite is trading at 2,898.05 up with +0.22% percent or +6.49 point. India's BSE Sensex is trading at 32,017.04 up with +2.06% percent or +645.92  point at 12:15 PM.