The DAX Futures is trading at 10,461.80 up with +0.22% or +22.80 point.The FTSE 100 Futures is trading at 5,762.60 up with +0.05% percent or +2.60 point. The CAC 40 Futures is trading at 4,411.80 up with +1.25% percent or +54.34 point.  The EURO Stoxx 50 Futures trading at 2,814.00 with +0.50% percent or +14.00 point.
TODAY'S FACTORS AND EVENTS
The monthly chart is one of my favorite long-term charts of any market. The low in March arrived the trend-line dating back to 1982. It crosses under the 2003 and 2009 lows, also very important lows. Furthermore, that trend-line is in confluence with the 2000 and 2007 tops, very important bull market highs.
The March low is viewed as an extremely pivotal threshold moving forward from the macro-tech perspective. Stay above and the trend is at worst sideways, but still keeps the market pointed higher. A break below could usher in a very nasty prolonged bear market. For now support is to be respected.
YESTERDAY ACTIVITY
For the day Germany's DAX closed at 10,415.03 up with +1.61% percent or +165.18 point. the FTSE 100 closed at 5,770.63 up with +2.30% percent or +129.60 point. France's CAC  40 closed at 4,411.80 up with +1.25% percent or +54.34 point.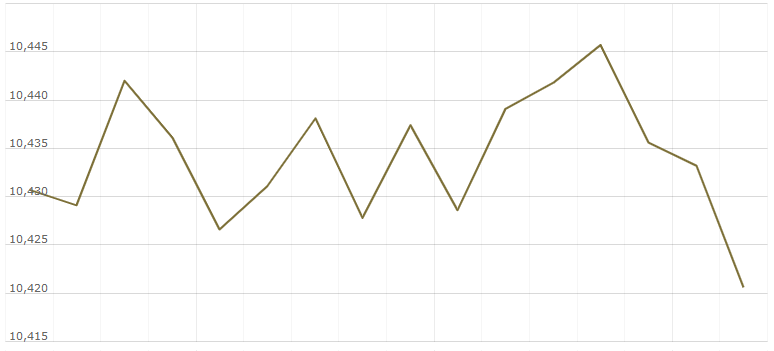 WORLD MARKETS
For the day the Dow is trading at 23,475.82 with +1.99% percent or +456.94  point. The S&P 500 is trading at 2,799.31 up with +2.29% percent or +62.75  point. The Nasdaq Composite is trading at 8,495.38 up with 2.81% percent or +232.15 point.
In other parts of world, Japan's Nikkei 225 is trading at 19,429.44 up with +1.52%percent or +291.49  point. Hong Kong's Hang Seng is trading at 24,015.41 with +0.51% percent or +122.05   point. China's Shanghai  Composite is trading at 2,838.50 with a loss of –0.19% percent or –5.48 point. India's BSE Sensex is trading at 31,763.29 up with +1.22% percent or  +383.74 point at 12:15 PM.