The DAX Futures is trading at 10,503.20 with a loss of -0.30% or -31.10 point. The FTSE 100 Futures is trading at 5,700.80 with a loss of -1.49% percent or -86.20 point. The CAC 40 Futures is trading at 4,447.49 with a loss of –1.78% percent or -80.81 point. The EURO Stoxx 50 Futures trading at 2,826.00 with a loss of -1.43% percent or –41.00 point.
TODAY'S FACTORS AND EVENTS
The DAX 30 is nearing resistance once again after a brief jog lower last week even as crude oil plummets beneath $5 a barrel, suggesting investors are extremely pessimistic about economic activity in the weeks ahead. Since it seems traders are willing to discard concerning developments elsewhere, the DAX 30 may look to continue higher this week if risk trends remain consistent. As a result, chartists might take aim at the nearby Fibonacci level around 10,900.
YESTERDAY ACTIVITY
For the day Germany's DAX closed at 10,675.90 up with +0.47% percent or +50.12 point.the FTSE 100 closed at 5,736.61 with a loss of  –1.31% percent or –76.22 point. France's CAC  40 closed at 4,528.30 up +with 0.65%% percent or +29.30 point.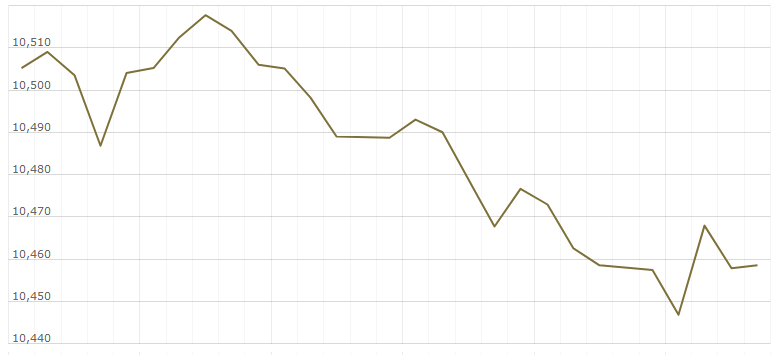 WORLD MARKETS
For the day the Dow is trading at 23,650.44 with a loss of –2.44% percent or –592.05  point. The S&P 500 is trading at 2,823.16 with a loss of –1.79% percent or –51.40  point. The Nasdaq Composite is trading at 8,560.73  with a loss of –1.03% percent or –89.41 point.
In other parts of world, Japan's Nikkei 225 is trading at 19,280.78 with a loss of –1.97% percent or –388.34   point. Hong Kong's Hang Seng is trading at 23,865.73 with a loss of –1.91% percent or –464.29  point. China's Shanghai  Composite is trading at 2,827.01 with a loss of –0.90% percent or –25.54 point. India's BSE Sensex is trading at 30,528.88 with a loss of –3.54% percent or –1,119.12 point at 12:15 PM.