The DAX Futures is trading at 10,687.50 with a loss of -0.16% or -16.80 point.The FTSE 100 Futures is trading at 5,803.80 with a loss of -0.16% percent or -9.30 point. The CAC 40 Futures is trading at 4,495.20 with a loss of -0.14% percent or -6.30 point. The EURO Stoxx 50 Futures trading at 2,872.00 with a loss of -0.03% percent or -1.00 point.
TODAY'S FACTORS AND EVENTS
The FTSE 100 ended the session up 2.82% at 5,786.96, and the FTSE 250 was 3.13% firmer at 15,859.29.
Sterling was stronger against both of its major trading pairs, last rising 0.34% on the dollar to $1.2499 and advancing 0.03% against the euro to €1.1496.
The gains in London tracked a broader market rally, following a Stat News report that patients being treated for coronavirus in a trial at a Chicago hospital with Gilead Sciences' investigational antiviral 'remdesivir' were recovering rapidly from severe symptoms.
YESTERDAY ACTIVITY
For the day Germany's DAX closed at 10,625.78 up with 3.15%percent or +324.24 point.the FTSE 100 closed at 5,786.96 up with +2.82% percent or +158.53  point. France's CAC  40 closed at 4,499.01 up with 3.42% percent or +148.85  point.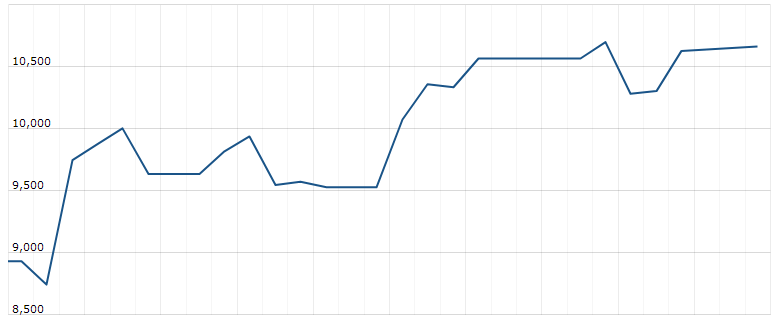 WORLD MARKETS
For the day the Dow is trading at 24,242.49 up with 2.99% percent or +704.81  point. The S&P 500 is trading at 2,874.56 up with +2.68% percent or +75.01  point. The Nasdaq Composite is trading at 8,650.14 up with +1.38% percent or +117.78 point.
In other parts of world, Japan's Nikkei 225 is trading at 19,669.12 with a loss of –1.15% percent or –228.14   point. Hong Kong's Hang Seng is trading at 24,348.43 with a loss of –0.13% percent or –31.57  point. China's Shanghai  Composite is trading at 2,852.55 up with +0.50% percent or +14.06 point. India's BSE Sensex is trading at 31,575.89  with a loss of –0.041% percent or –12.83 point at 12:15 PM.