The DAX Futures is trading at 10,604.80 up with +1.50% or +157.00 point.The FTSE 100 Futures is trading at 5,763.50 up with +0.98% percent or +55.80 point. The CAC 40 Futures is trading at 4,350.16 with a loss of -0.082% percent or -3.56 point.  The EURO Stoxx 50 Futures trading at 2,862.00 up with +2.95% percent or +82.00 point.
TODAY'S FACTORS AND EVENTS
The DAX continues to hold up, but is also working on a potentially bearish ascending wedge formation. It's been the strongest of the major European averages, so if it starts to roll over the others may do-s0 at a faster rate (looking at you, CAC 40).
The ascending wedge pattern won't fully trigger until it develops a bit more and price crosses the rising underside trend-line. A breakdown would have recent gaps in mind to be filled; 10069 and 9527 would be the first up.
But for now, as long as the DAX stays above the lower trend-line then the trend still remains pointed upward in the near-term, and could still bring gap-fills over 11k into play on further strength. A resolution one way or another appears to be nea
YESTERDAY ACTIVITY
For the day Germany's DAX closed at 10,301.54 up with +0.21%percent or +21.78 point. the FTSE 100 closed at 5,628.43 up with +0.55% percent or +30.78  point. France's CAC  40 closed at 4,350.16 with a loss of –0.082% percent or –3.56 point.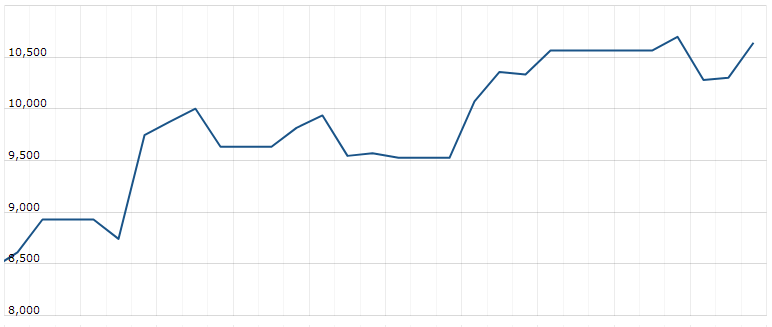 WORLD MARKETS
For the day the Dow is trading at 23,537.68 up with +0.14% percent or +33.33 point. The S&P 500 is trading at 2,799.55 up with +0.58% percent or +16.19  point. The Nasdaq Composite is trading at 8,532.36 up with +1.66% percent or +139.19 point.
In other parts of world, Japan's Nikkei 225 is trading at 19,897.26 up with +3.15% percent or +607.06 point. Hong Kong's Hang Seng is trading at 24,375.57 up with +1.54% percent or +369.12  point. China's Shanghai  Composite is trading at 2,838.49 up with +0.66% percent or +18.56 point. India's BSE Sensex is trading at 31,080.08 up with +1.63% percent or +498.85 point at 12:15 PM.