The DAX Futures is trading at 10,295.00  with a loss of -0.70% or -72.40 point. The FTSE 100 Futures is trading at 5,736.50  with a loss of -1.23% percent or -71.50 point. The CAC 40 Futures is trading at 4,350.50 with a loss of -1.62% percent or -71.50 point. The EURO Stoxx 50 Futures trading at 2,766.00 with -2.05% percent or -58.00 point.
TODAY'S FACTORS AND EVENTS
The DAX recovery is coming from a seriously strong level of support, but at the moment it is at risk of making a run back lower towards long-term support if the break of a short-term rising wedge can lead to the breaking of another near-term shelf.
The ascending wedge was triggered with yesterday's 4% down day, and on that there are some gap-fills that could come into play in the coming sessions. However, there is decent support right around 10200 that needs to break first. A break below 10198 will have the April 6 gap-fill at 10069 within reach, followed by the April 3 gap down from 9841 to the fill at 9527.
YESTERDAY ACTIVITY
For the day Germany's DAX closed at 10,513.79 up with +0.95% percent or +98.76 point. the FTSE 100 closed at 5,747.90 with a loss of –1.35% percent or –78.71 point. France's CAC  40 closed at 4,451.00  up with +0.89% percent or +39.20 point.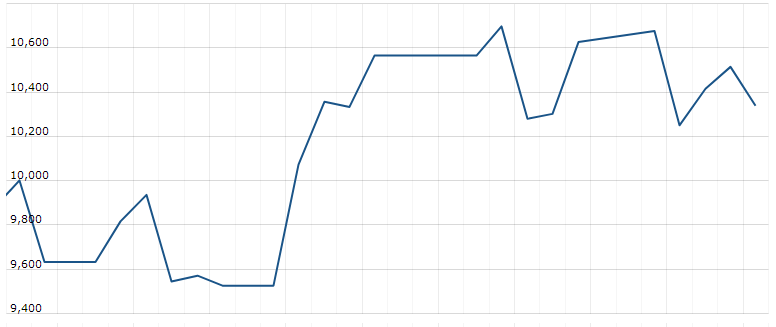 WORLD MARKETS
For the day the Dow is trading at 23,515.26 with +0.17% percent or +39.44  point. The S&P 500 is trading at 2,797.80  with a loss of –0.054% percent or –1.51 point. The Nasdaq Composite is trading at 8,494.75  with a loss of –0.0074%% percent or –0.63 point.
In other parts of world, Japan's Nikkei 225 is trading at 19,262.00 with a loss of –0.86% percent or –167.44   point. Hong Kong's Hang Seng is trading at 23,898.93 with a loss of –0.33% percent or –78.39   point. China's Shanghai  Composite is trading at 2,808.53 with a loss of –1.06% percent or –29.97 point. India's BSE Sensex is trading at 31,755.12  with a loss of –0.34% percent or –107.96 point at 12:15 PM.