The DAX Futures is trading at 8,976.00 up with +5.09% percent or +434.50 point.The FTSE 100 Futures is trading at 5,306.20 up with +3.71% percent or +189.70 point. The CAC 40 Futures is trading at 3,984.00 up with +2.83% percent or +109.50 point. The EURO Stoxx 50 Futures trading at 2,460.00 up with +5.44% percent or +127.00 point.
TODAY'S FACTORS AND EVENTS
The Fed made another emergency interest rate cut of 75 points to 0.00%-0.25% on Sunday night. Two hours earlier, RBNZ also cut its rate by 75 points to a historic low of 0.25%. This morning, the Bank of Japan expanded its QE program to stabilize markets and help the economy to operate through the quarantine shock.
But these measures are not enough yet to keep the markets from a new wave of decline based on fundamentals. The feeling of fear in the markets is ever spreading, with coronavirus in Europe spiking very sharply over the weekend. The daily number of new cases in Italy exceeded 3,500 on Saturday and Sunday is still growing. This is a signal that the announced quarantine measures are still not sufficient to contain the spreading of the disease. Potentially, it could result in even higher losses to the economy.
YESTERDAY ACTIVITY
For the day Germany's DAX closed at 8,742.25  with a loss of -5.31% percent or -489.83  point.the FTSE 100 closed at 5,151.08 with a loss of –4.01% percent or –215.03 point. France's CAC  40 closed at 3,881.46 with a loss of  –5.75% percent or –236.89 point.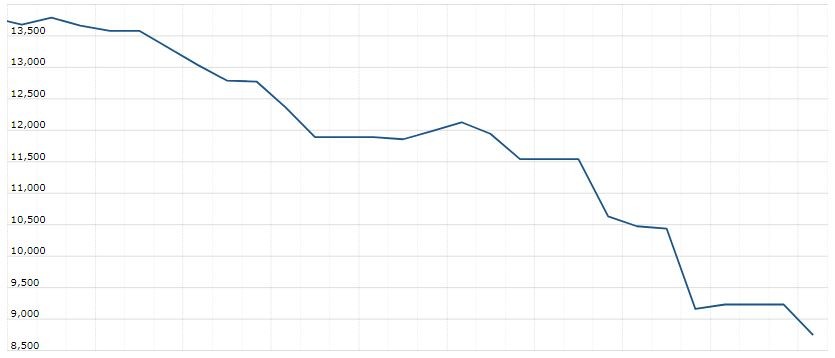 WORLD MARKETS
For the day the Dow is trading at 20,188.52  with a loss of –12.93% percent or –2,997.10  point. The S&P 500 is trading at 2,386.13 with a loss of –11.98% percent or –324.89 point. The Nasdaq Composite is trading at 6,904.59 with a loss of –12.32% percent or 970.28  point.
In other parts of world, Japan's Nikkei 225 is trading at 17,011.53 up with +0.056% percent or +9.49 point. Hong Kong's Hang Seng is trading at 23,204.68 up with +0.61% percent or +141.11  point. China's Shanghai  Composite is trading at 2,779.64 with a loss of –0.34% percent or ?9.61  point. India's BSE Sensex is trading at 31,757.08 up with +1.17% percent or +367.01 point at 12:15 PM.