The DAX Futures is trading at 9,420.50 up with +4.74% percent or +426.20 point.The FTSE 100 Futures is trading at 5,512.00 up with +4.05% percent or +214.50 point. The CAC 40 Futures is trading at 4,134.50 up with +2.42% percent or +97.50 point.  The EURO Stoxx 50 Futures trading at 2,633.00 up with +5.49% percent or +137.00 point.
TODAY'S FACTORS AND EVENTS
Germany's consumer price inflation was confirmed at 1.7 percent year-on-year in February 2020, unchanged from the previous month's six-month high and matching market expectations.Services inflation accelerated to 1.6 percent from 1.5 percent, with rent prices increasing 1.5 percent. Meanwhile, goodss inflation slowed to 1.8 percent from 2.0 percent in January, mainly due to a slowdown in energy prices (2.0 percent vs 3.4 percent). On the other hand, food prices rose at a faster pace (3.3 percent vs 2.3 percent). On a monthly basis, consumer prices advanced 0.4 percent, recovering from a 0.6 percent drop in January and in line with market forecasts. The harmonised index of consumer prices went up 1.7 percent from a year earlier and a 0.6 percent rise on the previous month
YESTERDAY ACTIVITY
For the day Germany's DAX closed at 9,161.13 with a loss of -12.24% percent or –1,277.55  point.the FTSE 100 closed at 5,237.48 with a loss of –10.87% percent or –639.04 point. France's CAC  40 closed at 4,044.26 with a loss of –12.28% percent or –565.98 point.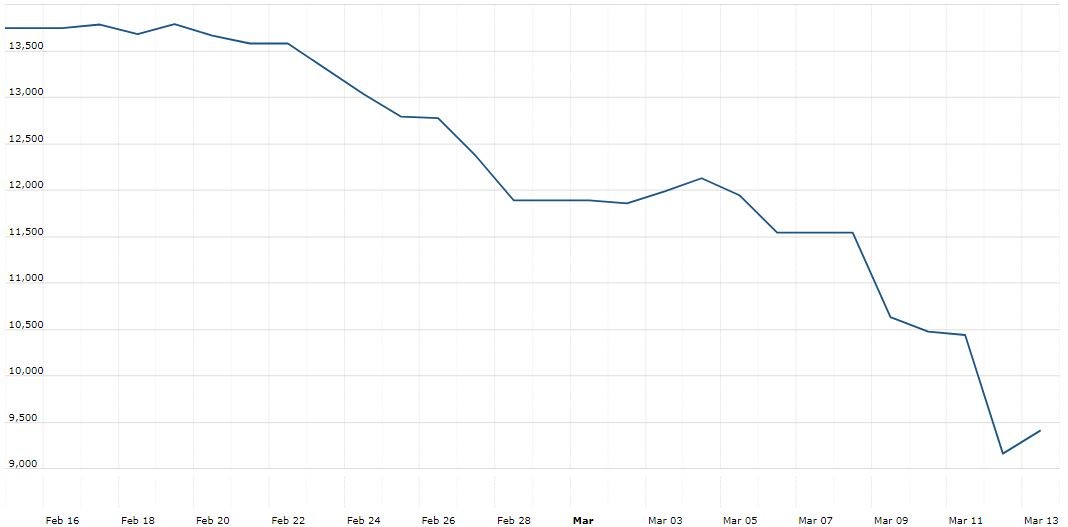 WORLD MARKETS
For the day the Dow is trading at 21,200.62  with a loss of –9.99% percent or –2,352.60  point. The S&P 500 is trading at 2,480.64 with a loss of –9.51% percent or –260.74 point. The Nasdaq Composite is trading at 7,201.80 with a loss of –9.43% percent or –750.25  point.
In other parts of world, Japan's Nikkei 225 is trading at 17,431.05 with a loss of –6.08% percent or –1,128.58 point. Hong Kong's Hang Seng is trading at 24,079.53 with a loss of –0.94% percent or –229.54  point. China's Shanghai  Composite is trading at 2,887.43 with a loss of –1.23% percent or –36.06  point. India's BSE Sensex is trading at 34,223.99 with 4.41% percent or +1,445.85  point at 12:15 PM.