The DAX Futures is trading at 9,817.20 with a loss of -4.69% percent or -483.30 point.The FTSE 100 Futures is trading at 5,553.50  with a loss of -5.22% percent or -306.00 point. The CAC 40 Futures is trading at 4,315.50 with a loss of -6.34% percent or -292.00 point.  The EURO Stoxx 50 Futures trading at 2,728.00 with a loss of -4.52% percent or –129.00 point.
TODAY'S FACTORS AND EVENTS
European stock markets closed mostly in the red for a fifth straight session on Today, as investors continued to worry about the rapid spread of the coronavirus and its impact on the global economy after the WHO called it a global pandemic. Stocks across Europe opened higher boosted by a 50bps emergency cut in the UK's interest rate but optimism faded throughout the day. The DAX 30 fell 37 points, or 0.4% to 10,439, the lowest since January 2019; the FTSE 100 lost 84 points, or 1.4% to a four-year low of 5,877; the CAC 40 dropped 26 points, or 0.6% to 4,610, the lowest since December 2018; and the IBEX 35 went down 25 points, or 0.3% to 7,436, a level not seen since September 2012.
YESTERDAY ACTIVITY
For the day Germany's DAX closed at 10,438.68 with a loss of –0.35% percent or –36.81  point.the FTSE 100 closed at 5,876.52 with a loss of –1.40% percent or –83.71 point. France's CAC  40 closed at 4,610.25 with a loss of –0.57% percent or –26.36 point.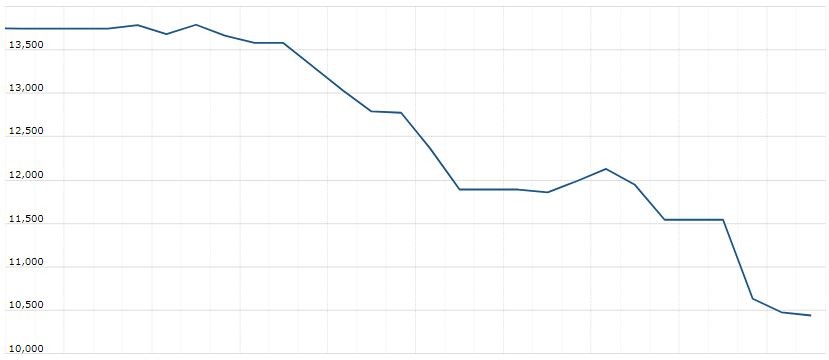 WORLD MARKETS
For the day the Dow is trading at 23,553.22  with a loss of –5.86% percent or –1,464.94  point. The S&P 500 is trading at 2,741.38 with a loss of –4.89% percent or –140.85 point. The Nasdaq Composite is trading at 7,952.05 with a loss of –4.70% percent or –392.20  point.
In other parts of world, Japan's Nikkei 225 is trading at 18,559.63 with a loss of –4.41% percent or –856.43 point. Hong Kong's Hang Seng is trading at 24,290.68 with a loss of –3.73% percent or –940.93 point. China's Shanghai  Composite is trading at 2,923.49 with a loss of –1.52% percent or –45.03  point. India's BSE Sensex is trading at 33,409.94 with a loss of –6.41% percent or –2,287.46  point at 12:15 PM.