The DAX Futures is trading at 11,711.00 with a loss of -0.65% percent or -77.00 point. The FTSE 100 Futures is trading at 6,591.00  with a loss of -0.45% 9 percent or -29.50 point. The CAC 40 Futures is trading at 5,255.50 with a loss of -0.52% percent or -27.50 point. The EURO Stoxx 50 Futures trading at 3,296.00 with a loss of -0.30% percent or –10.00 point.
TODAY'S FACTORS AND EVENTS
it was a particularly bearish day for the auto sector. Continental was the worst performer of the 30, tumbling by 15.39%. Things were not much better for Daimler and Volkswagen, which slid by 6.41% and by 4.86% respectively. BMW was amongst the best performers on the DAX30, however, falling by just 3.28%…
Rate cuts by the RBA, FED, and the BoC, and the prospect of the ECB following suit, weighed on the banks.
Commerzbank fell by 4.18%, with Deutsche Bank sliding by 6.76%.
Deutsche Lufthansa also took a big hit on Thursday, falling by 7.65%, as travel restrictions and quarantines hit.
YESTERDAY ACTIVITY
For the day Germany's DAX closed at 11,944.72 with a loss of –1.51% percent or –182.97  point.the FTSE 100 closed at 6,705.43 with a loss of –1.62% percent or – 110.16 point. France's CAC  40 closed at 5,361.10 with a loss of –1.90% percent or –103.79 point.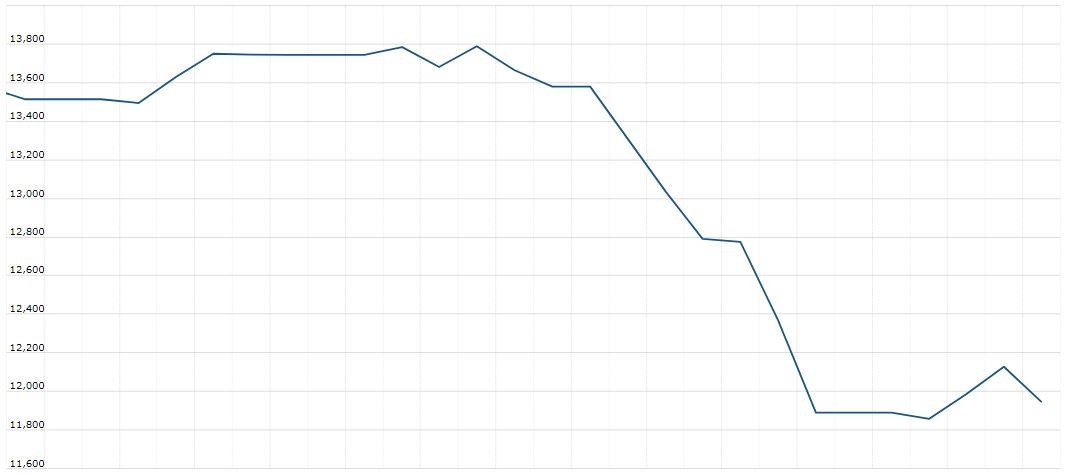 WORLD MARKETS
For the day the Dow is trading at 26,121.28  with a loss of –3.58% percent or –969.58  point. The S&P 500 is trading at 3,023.94 with a loss of –3.39%percent or –106.18 point. The Nasdaq Composite is trading at 8,738.60 with a loss of –3.10% percent or –279.49  point.
In other parts of world, Japan's Nikkei 225 is trading at 20,749.75 with a loss of –2.72% percent or –579.37 point. Hong Kong's Hang Seng is trading at 26,156.43 with a loss of –2.28% percent or –611.44 point. China's Shanghai  Composite is trading at 3,034.51 with a loss of –1.21% percent or –37.17  point. India's BSE Sensex is trading at 37,419.73 with a loss of –2.73% percent or –1,050.88  point at 12:15 PM.