The DAX Futures is trading at 13,762.80 up with +0.17% percent or +22.80 point. The FTSE 100 Futures is trading at 7,405.20  up with +0.14% percent or +10.20 point. The CAC 40 Futures is trading at 6,094.50 up with +0.16% percent or +10.00 point. The EURO Stoxx 50 Futures trading at 3,844.00 with a loss of +0.16% percent or +6.00 point.
TODAY'S FACTORS AND EVENTS
it was a bearish day for the auto sector on Thursday after having seen particularly strong gains on Wednesday. BMW and Daimler led the way down, with losses of 1.65% and 1.58% respectively. Continental and Volkswagen saw more modest losses of 0.39% and 0.91% respectively.
While the WHO managed to calm the nerves across the global equity markets, China's Association of Automobile Manufacturers released the latest sales figures and warned that the virus will deliver a huge shock to the car industry.
The latest figures showed an 18% slump in car sales to China in January, year-on-year. It was the 19th consecutive fall in car sales.
YESTERDAY ACTIVITY
For the day Germany's DAX closed at 13,745.43  with a loss of –0.032% percent or ?4.35  point.the FTSE 100 closed at 7,452.03 with a loss of –1.09% percent or –82.34 point. France's CAC  40 closed at 6,093.14 with a loss of 0.19% percent or –11.58  point.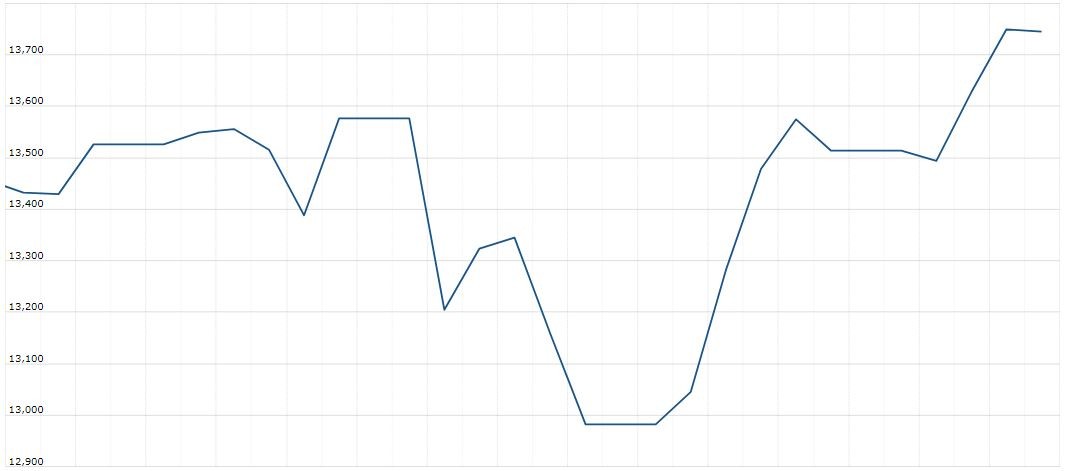 WORLD MARKETS
For the day the Dow is trading at 29,423.31 with a loss of –0.43% percent or –128.11   point. The S&P 500 is trading at 3,373.94  with a loss of –0.16% percent or –5.51 point. The Nasdaq Composite is trading at 9,711.97 with a loss of –0.14% percent or –13.99 point.
In other parts of world, Japan's Nikkei 225 is trading at 23,687.59 with a loss of –0.59% percent or –140.14 point. Hong Kong's Hang Seng is trading at 27,838.31 up with +0.39% percent or +104.14 point. China's Shanghai Composite is trading at 2,917.01 up with +0.38% percent or  +10.93 point. India's BSE Sensex is trading at 41,411.18 with a loss of –0.12% percent or –48.61 point at 12:15 PM.