The DAX Futures is trading at 13,700.50 with a loss of -0.55% percent or -75.90 point.The FTSE 100 Futures is trading at 7,459.00  with a loss of  -0.41% percent or -31.00 point. The CAC 40 Futures is trading at 6,089.50 with a loss of -0.42% percent or -25.50 point.  The EURO Stoxx 50 Futures trading at 3,836.00 with a loss of -0.52% percent or -20.00 point.
TODAY'S FACTORS AND EVENTS
The DAX30 led the way once more, rising by 0.99%, with the CAC40 and EuroStoxx600 gaining 0.83% and 0.65% respectively. A 2nd consecutive day in the green saw the DAX30 and EuroStoxx600 hit fresh record highs.
Following a pullback on Monday, risk appetite returned mid-week, while the EUR has born the brunt of negative sentiment towards the Eurozone economy.
For the DAX30 in particular, the 1.97% fall in the EUR for the current month has certainly supported the rise to record highs. This has come at a time when banks are beginning to project a recession in German
YESTERDAY ACTIVITY
For the day Germany's DAX closed at 13,749.78  up with +0.89% percent or +121.94  point. the FTSE 100 closed at 7,534.37 up with +0.47% percent or  +34.93 point. France's CAC  40 closed at 6,104.73 up with +0.83% percent or +49.98  point.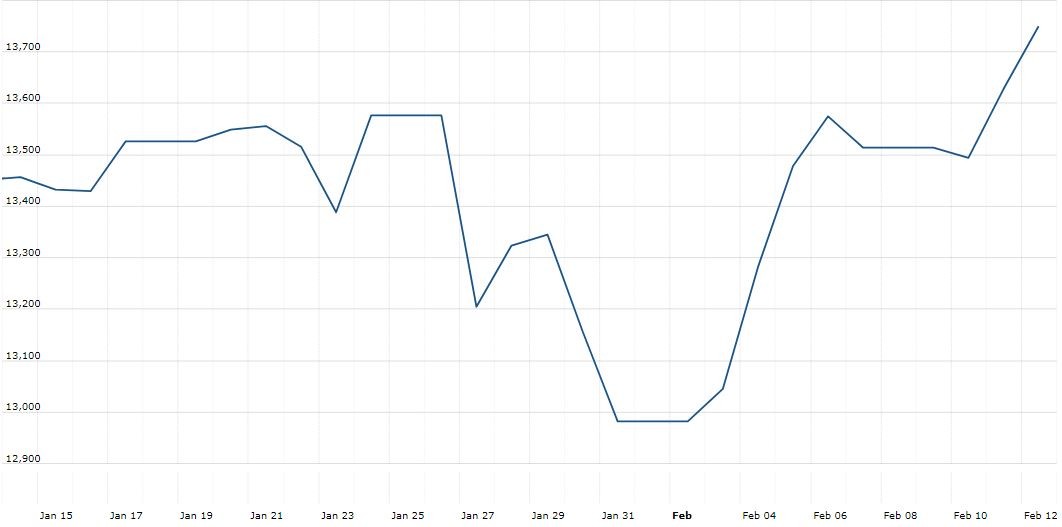 WORLD MARKETS
For the day the Dow is trading at 29,551.42 up with +0.94% percent or +275.08  point. The S&P 500 is trading at 3,379.45 up with +0.65% percent or +21.70 point. The Nasdaq Composite is trading at 9,725.96 up with +0.90% percent or +87.02 point.
In other parts of world, Japan's Nikkei 225 is trading at 23,827.73 with a loss of –0.14% percent or –33.48 point. Hong Kong's Hang Seng is trading at 27,739.60 with a loss of –0.30% percent or –84.06 point. China's Shanghai Composite is trading at 2,906.07 with a loss of –0.71% percent or –20.83 point. India's BSE Sensex is trading at 41,360.50 with a loss of –0.49% percent or –205.40 point at 12:15 PM.