The DAX Futures is trading at 13,552.30 with  a loss of -0.19% percent or -25.70 point.The FTSE 100 Futures is trading at 7,437.00  with a loss of -0.18% percent or -13.20 point. The CAC 40 Futures is trading at 6,037.00 with a loss of -0.05% percent or -3.00 point.  The EURO Stoxx 50 Futures trading at 3,794.00 with a loss of -0.16% percent or -6.00 point.
TODAY'S FACTORS AND EVENTS
It was a mixed day for the auto sector. Daimler bucked the trend on Thursday, rising by 0.17%. BMW (-0.39%), Continental (-0.04%), and Volkswagen (-0.48%) saw red, however.
It was also a bullish day for the banks. Commerzbank rose by 3.39%, while Deutsche Bank surged by 14.33%.
The jump in Deutsche Bank came off the back of news of Capital Group taking a 3% stake.
Deutsche Lufthansa slipped by 0.17%, while Infineon Technologies consolidated Wednesday's 9.94% bounce with a 0.14% gain.
YESTERDAY ACTIVITY
For the day Germany's DAX closed at 13,574.82 up with +0.72% percent or +96.49  point.the FTSE 100 closed at 7,504.79 up with +0.30% percent or +22.31 point. France's CAC  40 closed at 6,038.18 up with +0.88% percent or +52.78 point.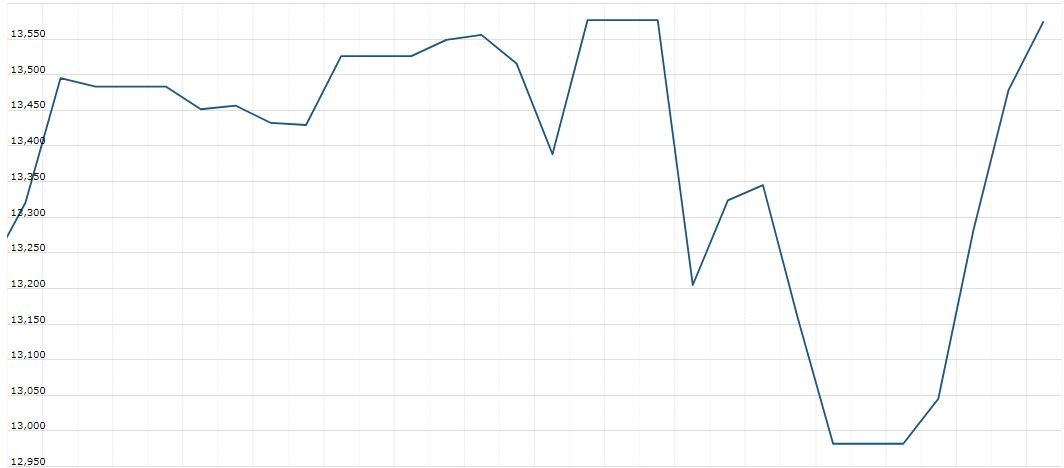 WORLD MARKETS
For the day the Dow is trading at 29,379.77 up with +0.30% percent or +88.92  point. The S&P 500 is trading at 3,345.78 up with +0.33% percent or +11.09 point. The Nasdaq Composite is trading at 9,572.15 up with +0.67% percent or +63.47 point.
In other parts of world, Japan's Nikkei 225 is trading at 23,827.98 with a loss of –0.19% percent or –45.61  point. Hong Kong's Hang Seng is trading at 27,334.94 with a loss of –0.58% percent or –158.76 point. China's Shanghai Composite is trading at 2,875.96 up with +0.33% percent or  +9.45 point. India's BSE Sensex is trading at 41,190.78 with a loss of –0.28% percent or –115.25 point at 12:15 PM.