The DAX Futures is trading at 13,019.50 up with +0.52% percent or +67.20 point.The FTSE 100 Futures is trading at 7,235.80 up  with +0.57% percent or +40.80 point. The CAC 40 Futures is trading at 5,783.50  with a loss of -2.13% percent or -126.00 point.  The EURO Stoxx 50 Futures trading at 3,644.00 up with +0.77% percent or +28.00 point.
TODAY'S FACTORS AND EVENTS
It was a bearish end to the week for the European majors, with the DAX30 falling by 1.33% to lead the way down. Things were not much better elsewhere, with the CAC40 and EuroStoxx600 falling by 1.11% and 1.07% respectively.
A 2nd consecutive day in the red came off the back of market jitters over the continued spread of the coronavirus.
Economic data at the end of the week added to the downside for the European majors.
The markets had become somewhat more optimistic following the signing of the phase 1 trade agreement.
Threats of U.S tariffs on the EU coupled with the likely negative effect of the coronavirus on China and the global economy tarnished that optimism, however.
Late last week, the number of countries shutting down borders were on the rise, which will not only impact tourism but also trade.
YESTERDAY ACTIVITY
For the day Germany's DAX closed at  12,981.97 with a loss of –1.33% percent or –175.15  point.the FTSE 100 closed at 7,286.01 with a loss of –1.30% percent or –95.95  point. France's CAC  40 closed at 5,806.34 with a loss of –1.11% percent or –65.43 point.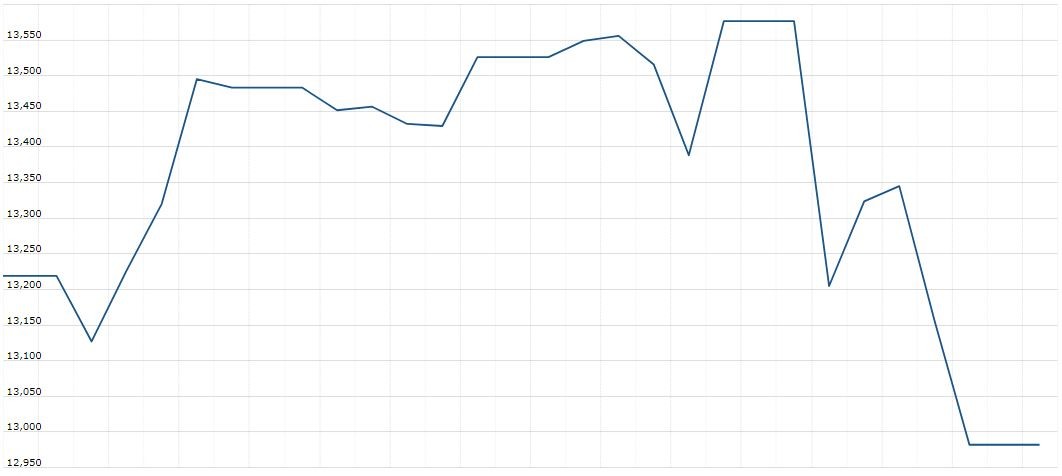 WORLD MARKETS
For the day the Dow is trading at 28,256.03 with a loss of –2.09% percent or –603.41   point. The S&P 500 is trading at 3,225.52  with a loss of –1.77% percent or –58.14 point. The Nasdaq Composite is trading at 9,150.94 with a loss of –1.59% percent or –148.00 point.
In other parts of world, Japan's Nikkei 225 is trading at 22,971.94 with a loss of –1.01% percent or –233.24   point. Hong Kong's Hang Seng is trading at 26,361.64 up with +0.19% percent or +49.01  point. China's Shanghai Composite is trading at 2,746.61 with a loss of –7.72% percent or –229.92 point. India's BSE Sensex is trading at 39,788.93 up with +0.13% percent or +53.38 point at 12:15 PM.