The DAX Futures is trading at 13,221.00 with a loss of  –0.42% percent or –55.70 point.The FTSE 100 Futures is trading at 7,357.00 with a loss of -0.15% percent or -10.80 point. The CAC 40 Futures is trading at 5,906.00  with a loss of -0.06% percent or -3.50 point.  The EURO Stoxx 50 Futures trading at 3,700.00 with a loss of -0.22% percent or -8.00 point.
TODAY'S FACTORS AND EVENTS
Volkswagen led the way down, sliding by 2.85%, with BMW (-0.77%) and Daimler (-0.92%) also seeing red. Continental bucked the trend, gaining 0.68%.
It was also a mixed day for the banks. Commerzbank fell by 0.59%, while Deutsche Bank rallied by 5.61% on the day.
The gains for Deutsche Bank came off the back of its earnings results. The bank announced a full-year net loss of €5.3bn, which was attributed entirely to the ongoing restructuring of the bank. Increased revenue in its investment bank unit was positive, however.
YESTERDAY ACTIVITY
For the day Germany's DAX closed at 13,157.12 with a loss of –1.41% percent or –187.88  point.the FTSE 100 closed at 7,381.96 with a loss of –1.36% percent or –101.61  point. France's CAC  40 closed at 5,871.77 with a loss of –1.40% percent or –83.12 point.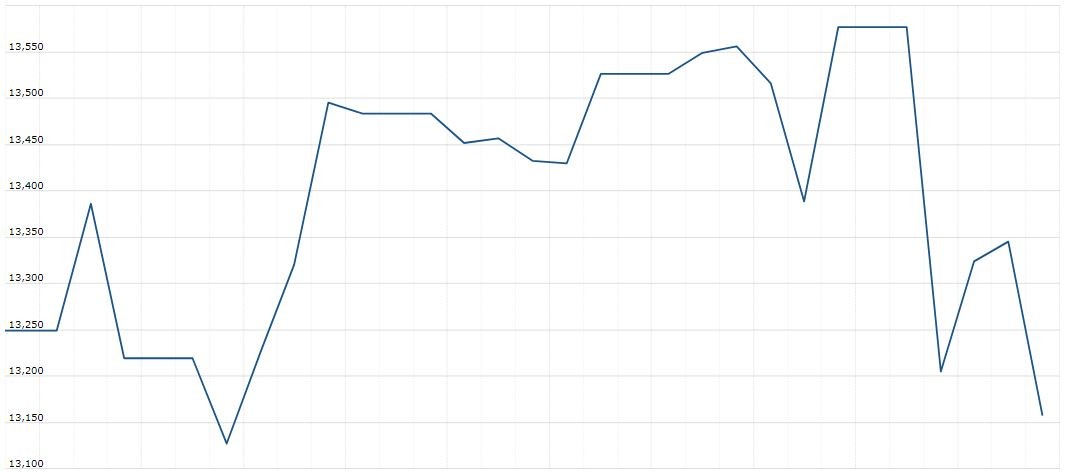 WORLD MARKETS
For the day the Dow is trading at 28,859.44 up with +0.43% percent or  +124.99   point. The S&P 500 is trading at 3,283.66 up with +0.31% percent or +10.26 point. The Nasdaq Composite is trading at 9,298.94 up with +0.26% percent or +23.77 point.
In other parts of world, Japan's Nikkei 225 is trading at 23,205.18 up with +0.99% percent or +227.43   point. Hong Kong's Hang Seng is trading at 26,384.60 with a loss of –0.24% percent or –64.53  point. China's Shanghai Composite is trading at 2,976.53 with a loss of –2.75% percent or –84.23 point. India's BSE Sensex is trading at 40,810.35 with a loss of –0.25% percent or –103.47 point at 12:15 PM.