The DAX Futures is trading at 13,222.20 up with +0.78% percent or +101.90 point.The FTSE 100 Futures is trading at  7,511.20  up with +0.30% percent or +22.20 point. The CAC 40 Futures is trading at 5,972.50  with  a loss of –0.03% percent or -1.50 point.  The EURO Stoxx 50 Futures trading at 3,750.00 up with +0.70% percent or +26.00 point.
TODAY'S FACTORS AND EVENTS
It was a bearish day for the European majors on Tuesday, with the CAC40 and EuroStoxx600 falling by 0.07% and 0.08% respectively. It was a 2nd day in the red, leaving the EuroStoxx600 and CAC40 down by 0.93% and by 0.98% respectively for the week. The German markets were closed on Tuesday.
Profit-taking and a lack of key data on a shortened trading session left the majors with a lack of direction on the day.
In spite of the pullback on the final day of the year, it was a bullish year for the European majors. The CAC40 and DAX30 rose by 26.37% and by 25.48% to lead the way, with the EuroStoxx600 seeing a more modest, but still noteworthy, 23.03% gain.
A disappointing December left the DAX30 trailing the CAC40. The DAX30 rose by just 0.1% compared with a 1.23% gain for the CAC40. The EuroStoxx600 led the way in December, however, rallying by 2.06%.
YESTERDAY ACTIVITY
For the day Germany's DAX closed at 13,249.01  with a loss of –0.66% percent or –88.10  point.the FTSE 100 closed at 7,542.44  with a loss of –0.59% percent or -44.61 point. France's CAC  40 closed at 5,978.06  with a loss of –0.069% percent or -4.15  point.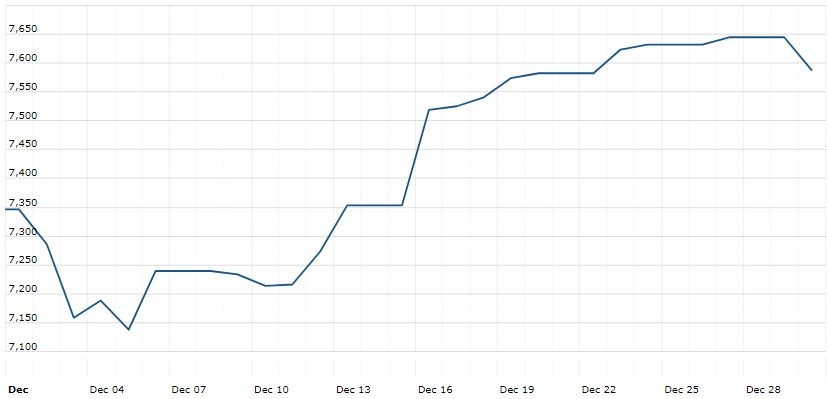 WORLD MARKETS
For the day the Dow is trading at 28,538.44  with a loss of –0.37% percent or –106.82 point. The S&P 500 is trading at 3,230.78 up with +0.29% percent or +9.49 point. The Nasdaq Composite is trading at 8,972.60 up with +0.30% percent or +26.61  point.
In other parts of world, Japan's Nikkei 225 is trading at 23,656.62 with a loss of –0.76% percent or -181.10 point. Hong Kong's Hang Seng is trading at 28,502.44 up with 1.11% percent or +312.69 point. China's Shanghai Composite is trading at 3,086.10 up with +1.18% percent or +35.98   point. India's BSE Sensex is trading at 41,520.30 up with +0.52% percent or +214.28 point at 12:15 PM.