The DAX Futures is trading at 13,120.30 with a loss of -1.51% percent or -200.70 point.The FTSE 100 Futures is trading at 7,501.20 with a loss of -0.23% percent or -17.00 point. The CAC 40 Futures is trading at 5,971.50  with  a loss of -0.03% percent or -1.50 point.  The EURO Stoxx 50 Futures trading at 3,724.00 with a loss of -1.22% percent or -46.00 point.
TODAY'S FACTORS AND EVENTS
Germany's consumer price inflation was confirmed at 1.1 percent year-on-year in November 2019, unchanged from the previous month and the lowest level since February 2018. Inflation remained below the ECB's target for the seventh month in a row, as energy deflation deepened. Inflation Rate in Germany averaged 2.37 percent from 1950 until 2019, reaching an all time high of 11.54 percent in October of 1951 and a record low of -7.62 percent in June of 1950
YESTERDAY ACTIVITY
For the day Germany's DAX closed at 13,249.01  with a loss of –0.66% percent or –88.10  point.the FTSE 100 closed at 7,587.05  with a loss of –0.76% percent or -57.85 point. France's CAC  40 closed at 5,982.22  with a loss of –0.91% percent or -55.17  point.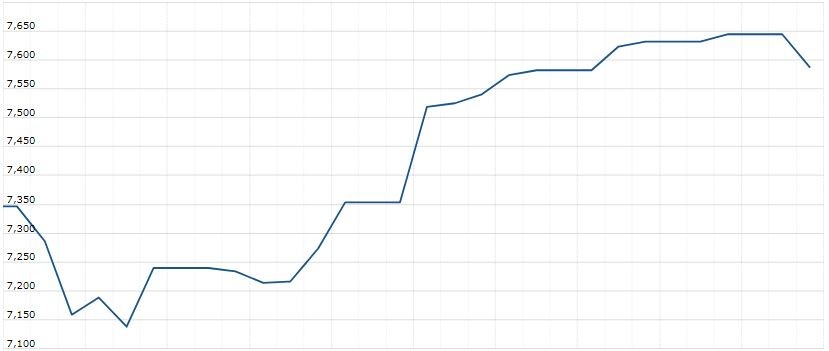 WORLD MARKETS
For the day the Dow is trading at 28,462.14  with a loss of –0.64% percent or –183.12 point. The S&P 500 is trading at 3,221.29  with a loss of –0.58% percent or -18.73 point. The Nasdaq Composite is trading at 8,945.99  with a loss of –0.67% percent or -60.62  point.
In other parts of world, Japan's Nikkei 225 is trading at 23,656.62 with a loss of –0.76% percent or -181.10 point. Hong Kong's Hang Seng is trading at 28,189.75  with a loss of –0.46% percent or –129.64 point. China's Shanghai Composite is trading at 3,050.12 up with +0.33% percent or +10.10   point. India's BSE Sensex is trading at 41,442.52 with a loss of –0.28% percent or –115.48 point at 12:15 PM.