The DAX Futures is trading at 13,088.30 up with +0.18% percent or +22.90 point. The FTSE 100 Futures is trading at 7,238.80 up with +0.20% percent or +14.30 point. The CAC 40 Futures is trading at 5,823.00 with a loss of -0.82% percent or -48.00 point. The EURO Stoxx 50 Futures trading at 3,668.00 up with +0.16% percent or +6.00 point.
TODAY'S FACTORS AND EVENTS
It was a bearish start to the week for the European majors, with the CAC40 falling by 0.59% to lead the way down.
The DAX30 and EuroStoxx600 weren't far behind, with losses of 0.46% and 0.24% respectively.
Economic data from the weekend weighed on the futures markets from the get-go on Monday, as trade data out of China disappointed.
If the trade data and failure to deliver a phase 1 agreement is anything to go by, more economic doom and gloom could be on the horizon. Year-on-year, China exports fell for a 4th consecutive month in November. That made it 7 monthly declines out of 11 for the current year…
On the geopolitical front, a lack of progress towards a phase 1 agreement also pressured the majors at the start of the week.
Talk from U.S administration, late last week, of 15th December tariffs to go ahead as scheduled was the negative, particularly with China demanding a rollback on existing tariffs.
YESTERDAY ACTIVITY
For the day Germany's DAX closed at  13,105.61  with a loss of -0.46% percent or –60.97 point. the FTSE 100 closed at 7,233.90  with a loss of –0.080% percent or –5.76 point. France's CAC  40 closed at 5,837.25 with a loss of –0.59% percent or –34.66 point.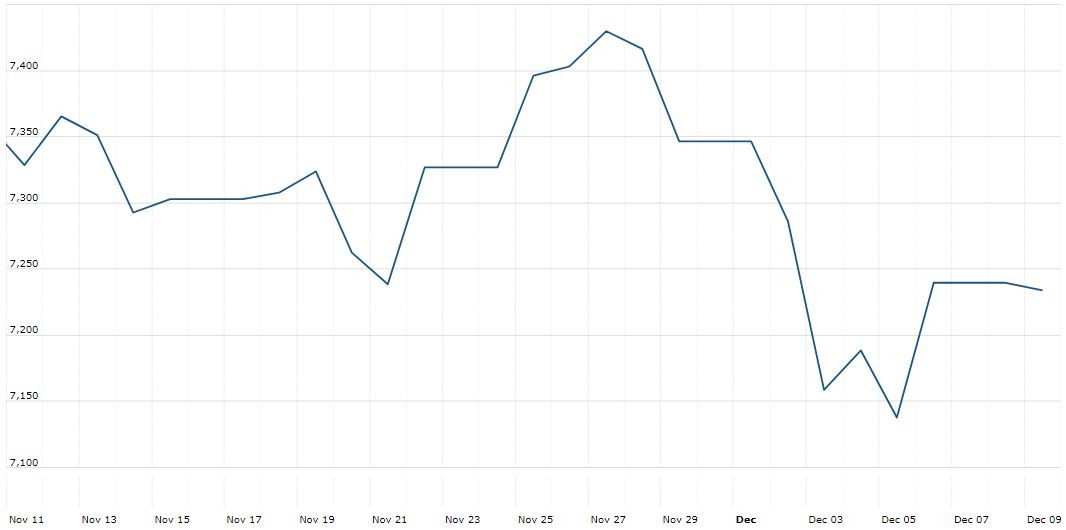 WORLD MARKETS
For the day the Dow is trading at 27,909.60 with a loss of –0.38% percent or –105.46  point. The S&P 500 is trading at 3,135.96  with a loss of –0.91% percent or –9.95 point. The Nasdaq Composite is trading at 8,621.83  with a loss of –0.40% percent or –34.70 point.
In other parts of world, Japan's Nikkei 225 is trading at 23,410.19 with a loss of –0.088% percent or –20.51 point. Hong Kong's Hang Seng is trading at 26,456.59 with a loss of –0.14% percent or –38.14 point. China's Shanghai Composite is trading at 2,917.45 up with +0.10% percent or +2.97 point. India's BSE Sensex is trading at 40,327.09 with a loss of –0.40% percent or –0.40% point at 12:15 PM.