The DAX Futures is trading at 13,166.00 with a loss of -0.10% percent or -14.80 point.The FTSE 100 Futures is trading at 7,220.50   with a loss of -0.15% percent or -10.80 point. The CAC 40 Futures is trading at 5,870.50 up with +1.26% percent or +73.00 point.  The EURO Stoxx 50 Futures trading at 3,686.00 with a loss of -0.16% percent or -6.00 point.
TODAY'S FACTORS AND EVENTS
It was a bullish end to the week for the European majors, with the CAC40 rallying by 1.21% to lead the way.
The EuroStoxx600 wasn't far behind, rising by 1.16%, while the DAX30 saw a more modest 0.86% on the day.
Upside on the day came from impressive economic data from the U.S and hopes of a phase 1 trade agreement between the U.S and China.
On Thursday, Trump spoke of the U.S and China making progress towards an agreement, which contradicted comments from earlier in the week. At the start of the week, Trump had stated a desire to delay any agreement until after the next year's Presidential Election…
YESTERDAY ACTIVITY
For the day Germany's DAX closed at 13,166.58 up with +0.86% percent or +111.78 point.the FTSE 100 closed at 7,239.66 up with +1.43% percent or +101.81 point. France's CAC  40 closed at 5,871.91 up with +1.21% percent or +70.37 point.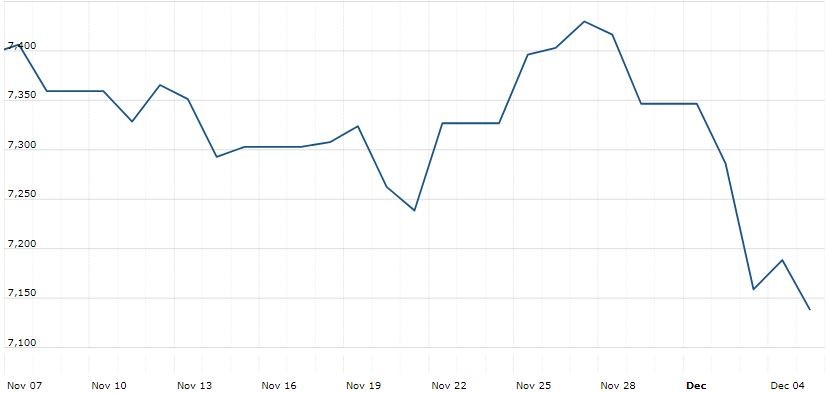 WORLD MARKETS
For the day the Dow is trading at 28,015.06 up with +1.22% percent or  +337.27 point. The S&P 500 is trading at 3,145.91 up with +0.91% percent or +0.91% point. The Nasdaq Composite is trading at 8,656.53 up with +1.00% percent or +85.83 point.
In other parts of world, Japan's Nikkei 225 is trading at 23,430.70 up with +0.33% percent or +76.30 point. Hong Kong's Hang Seng is trading at 26,507.19 up with +0.033% percent or +8.82 point. China's Shanghai Composite is trading at 2,912.42 up with +0.014% percent or +0.40 point. India's BSE Sensex is trading at 40,523.02 up with +0.19% percent or +77.87 point at 12:15 PM