The DAX Futures is trading at 13,163.00  with a loss of -0.68% percent or -90.10 point.The FTSE 100 Futures is trading at 7,325.00  with a loss of -0.53% percent or -38.80 point. The CAC 40 Futures is trading at 5,879.50 with 0.00% percent or 0.00 point.  The EURO Stoxx 50 Futures trading at 3,678.00 with a loss of -0.65% percent or –24.00  point.
TODAY'S FACTORS AND EVENTS
The politically sensitive food inflation rose to 15.5 percent in October, the highest since June 2008, from 11.2 percent in September, as pork prices soared 101.3 percent, the eighth straight month of increase, after a 69.3 percent gain in September. Also, cost rose faster for both edible oil (3.3 percent vs 2.3 percent) and eggs (10.4 percent vs 8.2 percent). Meantime, prices fell for both fruits fell (-0.3 percent vs 7.7 percent) and fresh vegetables (-10.2 percent vs -11.8 percent).
YESTERDAY ACTIVITY
For the day Germany's DAX closed at 13,228.56  with a loss of -0.46%percent or -60.90   point.the FTSE 100 closed at 7,359.38 with a loss of –0.63% percent or –47.03 point. France's CAC  40 closed at 5,889.70 with a loss of –0.022%  percent or -1.28 point.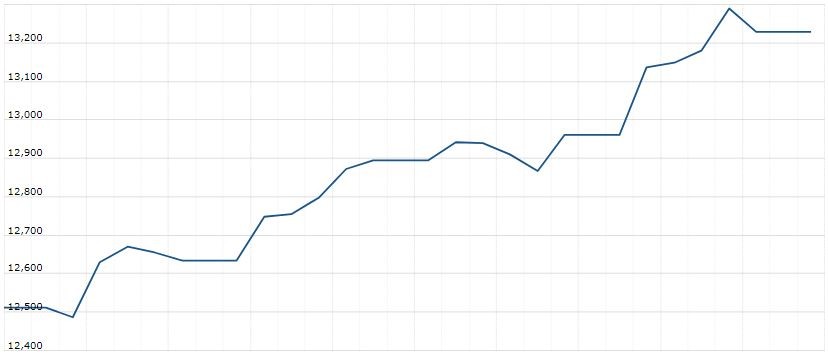 WORLD MARKETS
For the day the Dow is trading at 27,681.24 up with +0.023% percent or +6.44 point. The S&P 500 is trading at 3,093.08 up with +0.26% percent or +7.90 point. The Nasdaq Composite is trading at 8,475.31 up with +0.48% percent or +40.80 point.
In other parts of world, Japan's Nikkei 225 is trading at 23,331.84 with a loss of –0.26% percent or –60.03 point. Hong Kong's Hang Seng is trading at 26,852.82 with a loss of –2.89% percent or –798.32 point. China's Shanghai Composite is trading at 2,909.97 with a loss of –1.83% percent or –54.21   point. India's BSE Sensex is trading at 40,217.63 with a loss of –0.26% percent or –105.98 point at 12:15 PM.