The DAX Futures is trading at 13,241.30 with a loss of -0.22% percent or -29.80 point.The FTSE 100 Futures is trading at 7,369.20  with a loss of -0.19% percent or -14.30 point. The CAC 40 Futures is trading at 5,870.50 with a loss of -0.14% percent or -8.50 point.  The EURO Stoxx 50 Futures trading at 3,686.00 with a loss of -0.22% percent or -8.00  point.
TODAY'S FACTORS AND EVENTS
It was another bullish day for the European majors, which saw their 5th consecutive day in the green. The DAX30 led the way, rising by 0.84%, with the CAC40 and EuroStoxx600 up by 0.41% and by 0.37% respectively.
While economic data continued to disappoint, positive updates from the ongoing U.S – China trade talks provided support.
News of both the U.S and China agreeing to roll back a portion of existing tariffs as part of the Phase 1 agreement delivered the upside.
YESTERDAY ACTIVITY
For the day Germany's DAX closed at 13,289.46 up with +0.83% percent or +109.57   point.the FTSE 100 closed at 7,406.41 up with +0.13% percent or +9.76 point. France's CAC  40 closed at 5,890.99 up with +0.41%  percent or +24.25 point.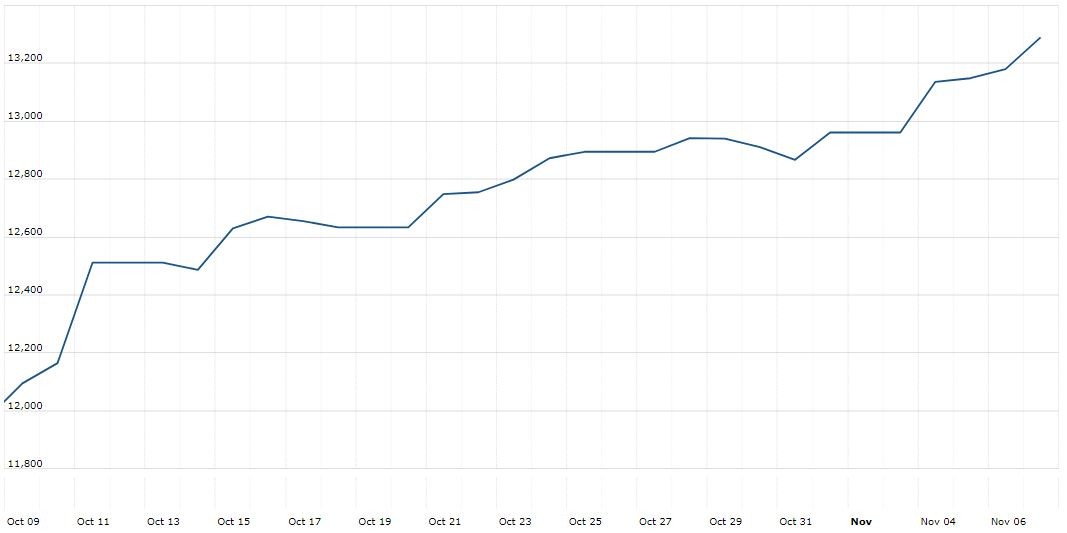 WORLD MARKETS
For the day the Dow is trading at 27,674.80 up with +0.66% percent or +182.24 point. The S&P 500 is trading at 3,085.18 up with +0.27% percent or +8.40 point. The Nasdaq Composite is trading at 8,434.52 up with +0.28% percent or +23.89 point.
In other parts of world, Japan's Nikkei 225 is trading at 23,391.87 up with +0.26% percent or +61.55 point. Hong Kong's Hang Seng is trading at 27,622.60 with a loss of –0.81% percent or –224.63 point. China's Shanghai Composite is trading at 2,964.18 with a loss of –0.49% percent or –14.53   point. India's BSE Sensex is trading at 40,640.98 with a loss of –0.031% percent or ?12.76 point at 12:15 PM.