The DAX Futures is trading at 13,143.00  up with +0.11% percent or +14.50 point.The FTSE 100 Futures is trading at 7,363.00 up with +0.28% percent or +20.50 point. The CAC 40 Futures is trading at 5,835.50  up with +0.24% percent or +14.00 point.  The EURO Stoxx 50 Futures trading at 3,666.00 up with +0.16% percent or +6.00 point.
TODAY'S FACTORS AND EVENTS
It was a particularly bullish start to the week for the European majors, with the DAX30 rallying by 1.35% to lead the way. The EuroStoxx600 and CAC30 weren't far behind, with gains of 1.00% and 1.08% respectively.
Comments from the U.S administration on Sunday drove the European majors northwards on Monday.
While the U.S administration stated that they will be looking for a new venue to sign the phase 1 agreement, it was the plan to grant licenses to permit U.S firms to sell to Huawei Technologies that was the key.
With geopolitical risk abating at the start of the week and economic data delivering few shocks, there was little to spook the majors on the day.
YESTERDAY ACTIVITY
For the day Germany's DAX closed at 13,136.28 up with +1.35% percent or +175.23   point.the FTSE 100 closed at 7,369.69  up with +0.92% percent or +67.27 point. France's CAC  40 closed at 5,824.30 up with +1.08%  percent or +62.42 point.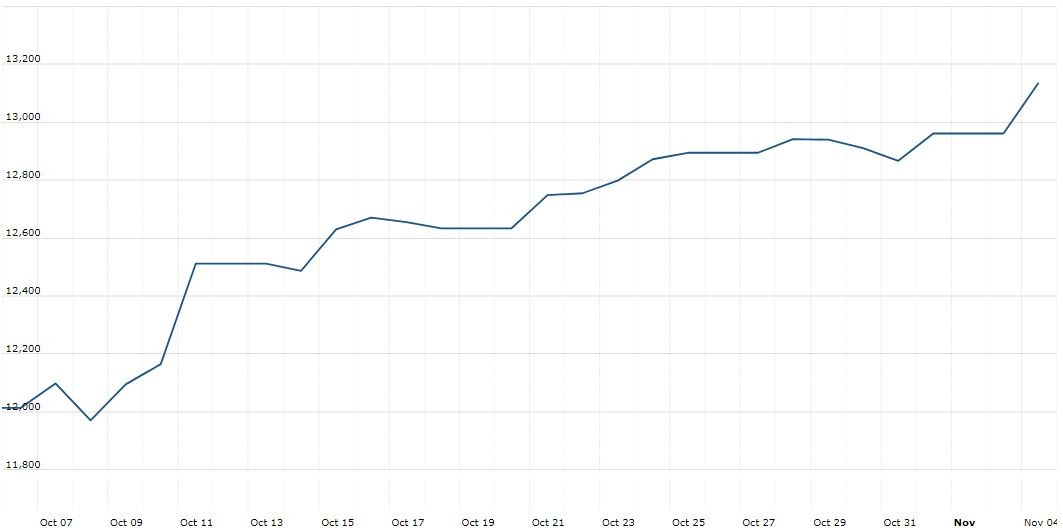 WORLD MARKETS
For the day the Dow is trading at 27,462.11 up with +0.42% percent or +114.75 point. The S&P 500 is trading at 3,078.27 up with 0.37% percent or +11.36 point. The Nasdaq Composite is trading at 8,433.20 up with +0.56% percent or +46.80 point.
In other parts of world, Japan's Nikkei 225 is trading at 23,251.99 with +1.76% percent or +401.22 point. Hong Kong's Hang Seng is trading at 27,621.28 up with +0.27% percent or ++73.98 point. China's Shanghai Composite is trading at 2,991.56 up with +0.54% percent or +16.07  point. India's BSE Sensex is trading at 40,140.08 with a loss of –0.39% percent or –156.29 point at 12:15 PM.