The DAX Futures is trading at 12,921.00 up with +0.23% percent or +29.80 point. The FTSE 100 Futures is trading at 7,251.50 up with +0.08% percent or +5.50 point. The CAC 40 Futures is trading at 5,745.20 up with +0.32%percent or +18.20 point. The EURO Stoxx 50 Futures trading at 3,612.00 up with +0.17% percent or +6.00 point.
TODAY'S FACTORS AND EVENTS
It was a busy day on the Eurozone economic calendar on Thursday. Key stats German retail sales figures and the Eurozone's 3rd quarter GDP and prelim October inflation figures. There was also the Eurozone's unemployment rate to consider.
Prelim October inflation figures out of France and Italy and Spanish GDP numbers had a muted impact on the day.
From Germany, retail sales rose by just 0.1% in September, month-on-month, following a 0.1% decline in August. Economists had forecast a 0.3% rise. According to Destatis, retail sales increased by 3.4% in the same month a year earlier.
YESTERDAY ACTIVITY
For the day Germany's DAX closed at 12,866.79 with a loss of -0.34% percent or –43.44   point.the FTSE 100 closed at 7,248.38  with a loss of –1.12% percent or –82.40 point. France's CAC  40 closed at 5,729.86 with a loss of –0.62%  percent or –36.00 point.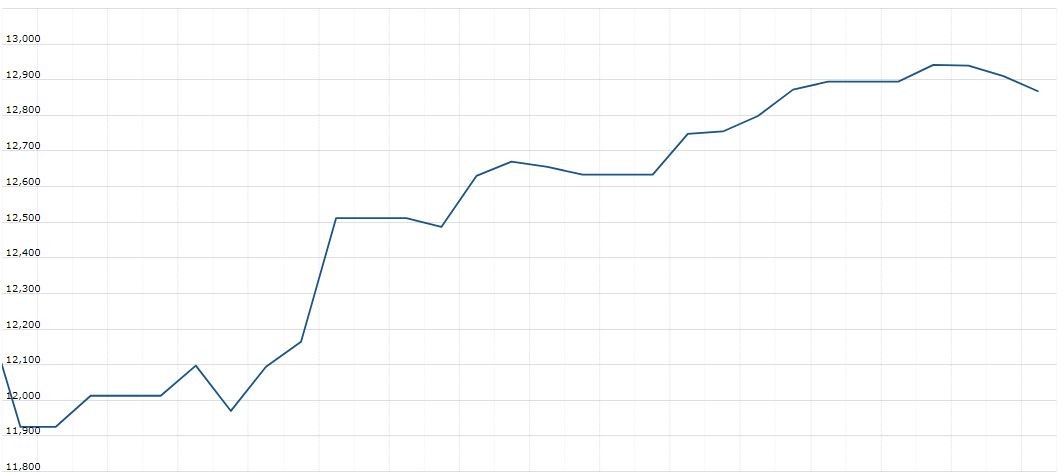 WORLD MARKETS
For the day the Dow is trading at 27,046.23 with a loss of –0.52% percent or  –140.46 point. The S&P 500 is trading at 3,037.56 with a loss of –0.30% percent or –9.21 point. The Nasdaq Composite is trading at 8,292.36  with a loss of –0.14% percent or 11.62 point.
In other parts of world, Japan's Nikkei 225 is trading at 22,850.77 with a loss of –0.33% percent or –76.27 point. Hong Kong's Hang Seng is trading at 27,047.94 up with +0.52% percent or +141.22 point. China's Shanghai Composite is trading at 2,958.20 up with +0.99% percent or +29.14  point. India's BSE Sensex is trading at 40,075.35 with a loss of –0.13% percent or –53.70 point at 12:15 PM.