The DAX Futures is trading at 12,932.50 with a loss of -0.02% percent or -2.50 point.The FTSE 100 Futures is trading at 7,309.50  with 0.00% percent or 0.00% point. The CAC 40 Futures is trading at 5,777.80  up with +0.27% percent or +15.80 point.  The EURO Stoxx 50 Futures trading at 3,620.00 with 0.00% percent or 0.00 point.
TODAY'S FACTORS AND EVENTS
It was a busy day on the Eurozone economic calendar on Wednesday. Key stats included 3rd quarter GDP and September consumer spending figures out of France. Later in the morning, Germany's October unemployment figures also influenced.
Of less impact on the day were Spain and Germany's prelim October inflation figures.
According to Insee,
The French economy grew by 0.3% in the 3rd quarter, quarter-on-quarter, which was better than a forecast of 0.2%. In the 2nd quarter, the economy had also grown by 0.3%.
Household consumption expenditures picked up from 0.2% to 0.3% providing support.
Total GFCF, however, slipped from a 1.2% increase in the 2nd

 

quarter to a 0.9% increase in the 3rd
Final domestic demand, excl. inventory changes grew at the same pace as in the 2nd

 

quarter and contributed 0.5 points to GDP growth.
Imports jumped by 1.4%, following a 0.3% decline in the 2nd

 

quarter, while exports rose by 0.3%, reversing a 0.1% decline.
There was also a positive contribution from inventories that contributed 0.1 points in the quarter.
YESTERDAY ACTIVITY
For the day Germany's DAX closed at 12,910.23 with a loss of –0.23% percent or –29.39  point.the FTSE 100 closed at 7,330.78  with a loss of –0.34% percent or –25.02 point. France's CAC  40 closed at 5,765.87 up with +0.45%  percent or  +25.73 point.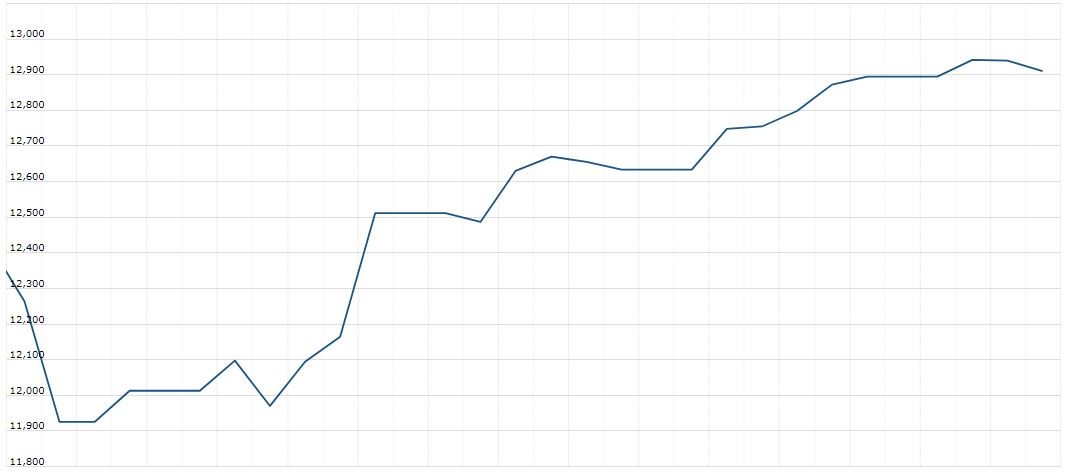 WORLD MARKETS
For the day the Dow is trading at 27,186.69 up with +0.43% percent or +115.27 point. The S&P 500 is trading at 3,046.77 with 0.33% percent or +9.88 point. The Nasdaq Composite is trading at 8,303.98  with 0.33% percent or +27.12 point.
In other parts of world, Japan's Nikkei 225 is trading at 22,927.04 up with +0.37% percent or +83.92 point. Hong Kong's Hang Seng is trading at 26,851.89 with 0.69% percent or +184.18 point. China's Shanghai Composite is trading at 2,929.06 with a loss of –0.35% percent or –10.26  point. India's BSE Sensex is trading at 40,294.94 up with +0.61% percent or +243.07 point at 12:15 PM.