The DAX Futures is trading at 12,040.30 with  a loss of -0.48% percent or -57.50 point.The FTSE 100 Futures is trading at 7,133.80  with a loss of -0.02% percent or -1.20 point. The CAC 40 Futures is trading at 5,495.80 with a loss of -0.03% percent or -1.70 point.  The EURO Stoxx 50 Futures trading at 3,436.00 with a loss of -0.58% percent or -20.00 point.
TODAY'S FACTORS AND EVENTS
The losses came in spite of better than anticipated economic data out of Germany, with sentiment towards the trade war weighing.
Expectations of progress in trade talks between the U.S and China deteriorated as the markets reacted to news of the U.S including an additional 28 Chinese firms to the blacklist.
To make matters worse, there was some controversy over the ongoing Hong Kong protests. China broadcasters and media suspended the airing of NBA preseason games on Tuesday. The move came in response to the GM of the Houston Rockets, Daryl Morey, tweeting support for the pro-democracy protests.
When considering the fact that China has ramped up the import of U.S agricultural goods, there's unlikely to be too much give should the U.S stand firm on tariffs, blacklisted companies, and Huawei
PREVIOUS DAY ACTIVITY
For the day Germany's DAX closed at 12,092.91 with a loss of –0.011% percent or –1.35  point.the FTSE 100 closed at 7,135.45 with a loss of –0.43% percent or –31.05 point. France's CAC  40 closed at 5,517.71 up with +0.34% percent or +18.57 point.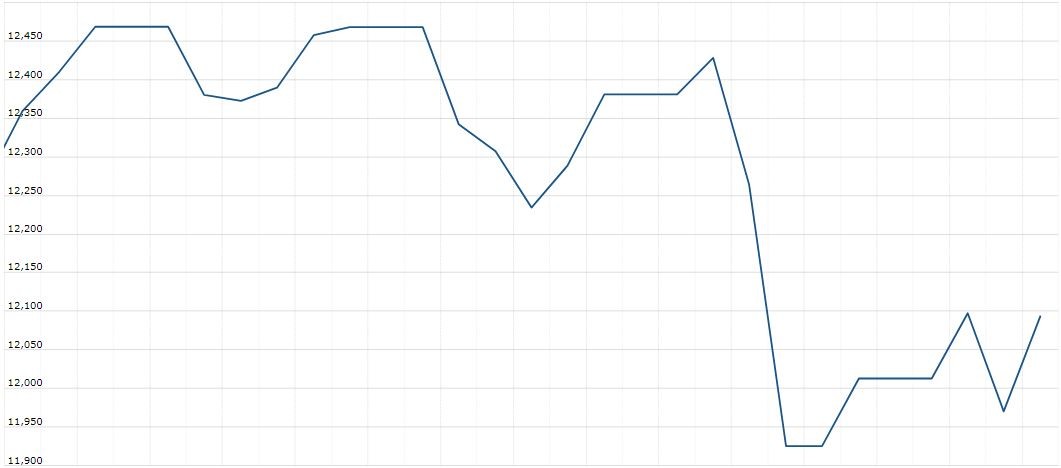 WORLD MARKETS
For the day the Dow is trading at 26,346.01 up with +0.70% percent or  +181.97  point. The S&P 500 is trading at 2,919.40 up with +0.91% percent or +26.34 point. The Nasdaq Composite is trading at 7,903.74 up with +1.02% percent or +79.96 point.
In other parts of world, Japan's Nikkei 225 is trading at 21,551.98 up with +0.45% percent or +95.60 point. Hong Kong's Hang Seng is trading at 25,702.51 up with +0.077% percent or  +19.70 point. China's Shanghai Composite is trading at 2,947.71 up with +0.78% percent or +22.85 point. India's BSE Sensex is trading at 37,868.84  with a loss of –0.81% percent or –309.11  point at 12:15 PM.