The DAX Futures is trading at 12,016.50 up with +0.47% percent or +55.80 point.The FTSE 100 Futures is trading at 7,125.80  with a loss of -0.03% percent or -2.20 point. The CAC 40 Futures is trading at 5,465.80 up with +0.19% percent or +10.30 point.  The EURO Stoxx 50 Futures trading at 3,434.00  with +0.41% percent or +14.00 point.
TODAY'S FACTORS AND EVENTS
For the DAX: It was yet another bearish day for the auto sector, with BMW (-1.12%), Continental (-0.59%), and Daimler (-0.49%) on the slide.  Volkswagen bucked the trend with a gain of 0.12%.
Bank stocks also struggled on the day, with Deutsche Bank sliding by a further 2.25%. Commerzbank fell by a more modest 1.62%
Leading the way down on the day, however, were Wirecard and Infineon Tech, which tumbled by 4.81% and by 3.59% respectively. The losses came in response to the shift in sentiment towards trade through the day.
PREVIOUS DAY ACTIVITY
For the day Germany's DAX closed at 11,993.33 up with 0.19% percent or +23.13  point.the FTSE 100 closed at 7,165.31 up with 0.31% percent or +22.16 point. France's CAC  40 closed at 5,459.00 up with +0.044% percent or +2.38 point.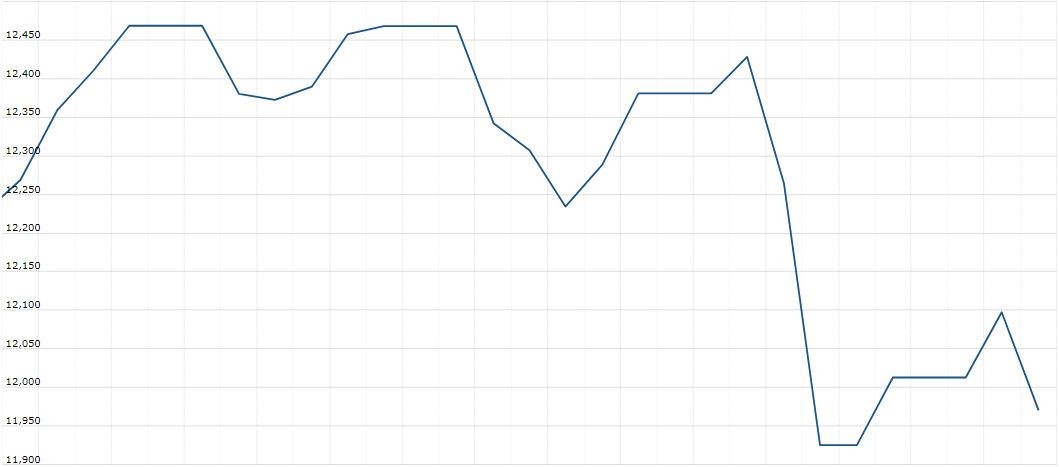 WORLD MARKETS
For the day the Dow is trading at 26,164.04 with a loss of –1.19% percent or  –313.98  point. The S&P 500 is trading at 2,893.06  with a loss of –1.56% percent or –45.73 point. The Nasdaq Composite is trading at 7,823.78  with a loss of –1.67% percent or -132.52 point.
In other parts of world, Japan's Nikkei 225 is trading at 21,456.38 with a loss of –0.61% percent or –131.40 point. Hong Kong's Hang Seng is trading at 25,713.84 with a loss of –0.69% percent or  –179.56 point. China's Shanghai Composite is trading at 2,924.86 up with +0.39% percent or +11.29 point. India's BSE Sensex is trading at 37,855.07 up with +0.86% percent or  +323.09  point at 12:15 PM.