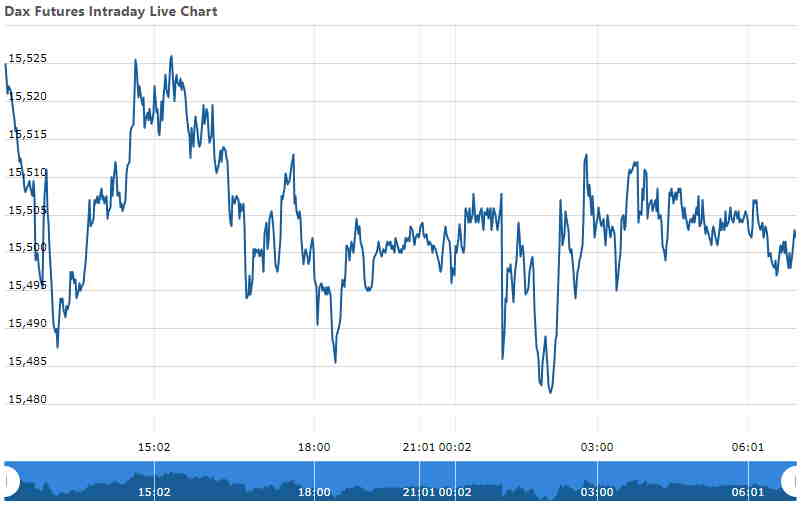 DAX Futures Update : 21 Feb. 2023
The DAX Futures is trading at 15,501.5 with a loss of -0.05% percent -8.5 point.The FTSE 100 Futures is trading at 7,972.80 with -0.11% percent or -8.70 point. The CAC 40 Futures is trading at 7,341.00 with -0.57% percent or -42.20 point.  The EURO Stoxx 50 Futures trading at 4,274.00 with -0.12% percent or -5.00 point.
TODAY'S FACTORS AND EVENTS
Electricity prices in Germany fell towards €60/MWh, their lowest level since January 14th, because of a surge in wind power generation and an expected decline in electricity consumption amid warmer weather. Additionally, Germany's government has announced support for electricity, gas, and heating prices for private households and companies in 2023, following last year's sharp rise in energy costs. The gas price cap allows industrial customers to receive 70% of their natural gas consumption at a guaranteed 7 cents per kilowatt hour. For heat consumption, the price is capped at 7.5 cents per kilowatt hour, also for 70% of consumption. Meanwhile, the electricity price for households and small businesses is capped at 40 cents per kilowatt hour for 80% of actual consumption. Electricity prices in Europe's largest economy hit an all-time high of €700/MWh last August as the region met the worst energy crisis in decades and concerns about Russian gas supplies mounted.
YESTERDAY ACTIVITY
For the day Germany's DAX closed at 15,477.55 with a loss of -0.029% percent or ?4.45 point. the FTSE 100 closed at 8,014.31 with 0.12% percent or +9.95 point. France's CAC 40 closed at 7,335.61 with a loss of -0.16% percent or ?12.11 point.
WORLD MARKETS
For the day the Dow is trading at 34,089.27 with 0.46% percent or ?156.66 point. The S&P 500 is trading at 4,136.13 with 0.028% percent or ?1.16 point. The Nasdaq Composite is trading at 11,960.15  with 0.57% percent or +68.36 point.
In other parts of world, Japan's Nikkei 225 is trading at 27,471.56 with 0.48% percent or ?131.21 point. Hong Kong's Hang Seng is trading at 20,828.43 with 1.35% percent or ?285.33 point. China's Shanghai Composite is trading at 3,281.76 with 0.35% percent or ?11.52  point. India's BSE Sensex is trading at 61,048.52 with 0.027% percent or +16.26 point at 12:15 PM.