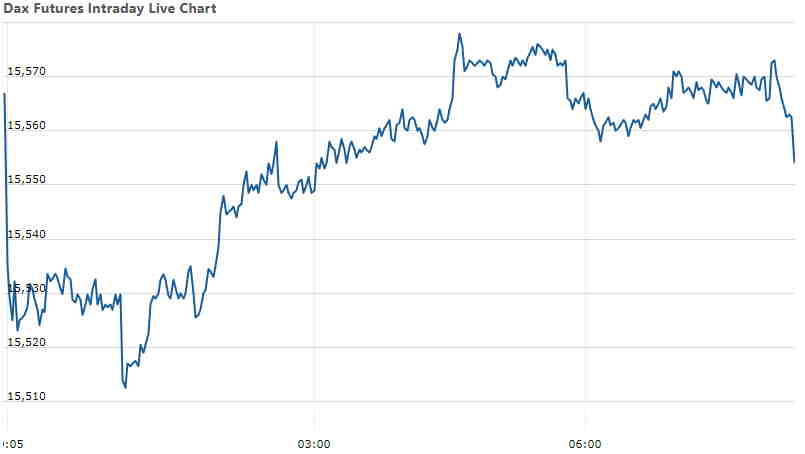 DAX Futures Update : 20 Feb. 2023
The DAX Futures is trading at 15,604.0 up with +0.33% percent +52.0 point.The FTSE 100 Futures is trading at 7,996.20 with +0.39% percent or +31.20 point. The CAC 40 Futures is trading at 7,343.00 with +0.89% percent or +65.00 point.  The EURO Stoxx 50 Futures trading at 4,308.00 with +0.42% percent or +18.00 point.
TODAY'S FACTORS AND EVENTS
Germany's 10-year bond yield crossed 2.5%, moving towards an 11-year high of 2.569% hit on December 30th, as strong US economic data raised the chances of the US Federal Reserve sticking to its monetary tightening path. At the same time, remarks by European Central Bank officials dashed hopes of a quick end to the current tightening cycle. ECB President Lagarde reiterated the central bank would keep raising rates to slow down underlying price pressures, while ECB's Chief Economist Philip Lane and fellow board member Fabio Panetta said the sharp increase in borrowing costs had yet to be fully felt by the economy. The ECB has raised its key rates by 50bps to the highest level since 2008, and signaled another similar hike in March to extend its efforts against soaring inflation in the bloc. Meanwhile, European Commission forecasts showed Eurozone economic growth is likely to be stronger than expected this year while inflation will be lower than in forecasts made towards the end of 2022.
YESTERDAY ACTIVITY
For the day Germany's DAX closed at 15,380.56 with 0.11% percent or ?16.78 point.the FTSE 100 closed at 7,953.85 with 0.079% percent or +6.25 point. France's CAC 40 closed at 7,213.81 with 0.072% percent or +5.22 point.
WORLD MARKETS
For the day the Dow is trading at 34,089.27 with 0.46% percent or ?156.66 point. The S&P 500 is trading at 4,136.13 with 0.028% percent or ?1.16 point. The Nasdaq Composite is trading at 11,960.15  with 0.57% percent or +68.36 point.
In other parts of world, Japan's Nikkei 225 is trading at 27,471.56 with 0.48% percent or ?131.21 point. Hong Kong's Hang Seng is trading at 20,828.43 with 1.35% percent or ?285.33 point. China's Shanghai Composite is trading at 3,281.76 with 0.35% percent or ?11.52  point. India's BSE Sensex is trading at 61,048.52 with 0.027% percent or +16.26 point at 12:15 PM.