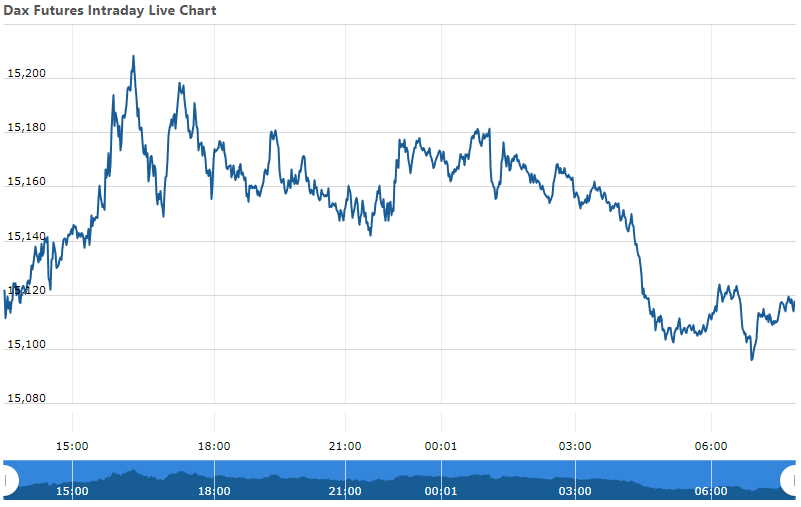 DAX Futures Update : 31 Jan. 2023
The DAX Futures is trading at 15,104.0 with –0.52% percent –79.0 point.The FTSE 100 Futures is trading at 7,734.80 with -0.37% percent or -28.70 point. The CAC 40 Futures is trading at 7,078.80 with –0.45% percent or -31.70 point.  The EURO Stoxx 50 Futures trading at 4,144.00 with -0.53% percent or -22.00 point.
TODAY'S FACTORS AND EVENTS
Germany's 10-year yield rose to 2.3%, moving further away from the over month low of 1.967% hit on January 18th, after a stronger-than-expected Spain's inflation rate raised the chances of the European Central Bank to maintain its hawkish rhetoric in the near term. The bloc's central bank is seen hiking interest rates by 50 bps on Thursday, while traders will be looking for whether officials signal they are likely to hike again by 50 bps at the March meeting, or hint at a slowdown in the pace of increases. In January, ECB President Lagarde warned that the central bank would continue raising interest rates and leave them in restrictive territory for as long as necessary to bring down inflation to its 2% target. Elsewhere, the US Fed will likely continue to reduce its tightening pace in upcoming meetings.
YESTERDAY ACTIVITY
For the day Germany's DAX closed at 15,126.08 with a loss of -0.16% percent or ?23.95 point.the FTSE 100 closed at 7,784.87 up with  +0.25% percent or +19.72 point. France's CAC 40 closed at 7,082.01 with a loss of -0.21% percent or ?15.20 point.
WORLD MARKETS
For the day the Dow is trading at 33,978.08 with 0.084% percent or +28.67 point. The S&P 500 is trading at 4,070.56 with 0.25% percent or +10.13 point. The Nasdaq Composite is trading at 11,621.71 up with +0.95% percent or +109.30 point.
In other parts of world, Japan's Nikkei 225 is trading at 27,361.16 with a loss of –0.078% percent or ?21.40 point. Hong Kong's Hang Seng is trading at 22,266.60 with a loss of –1.86% percent or ?422.30 point. China's Shanghai Composite is trading at 3,276.72 with 0.36% percent or +11.90point. India's BSE Sensex is trading at 59,193.33 with  a loss of –0.23% percent or ?137.57 point at 12:15 PM.